Ceramic tiles, terracotta detailing, floral motifs and carved cornices all contribute to the
architectural vocabulary of two unique buildings on Constitution Hill which have a distinctively Italian feel against the backdrop of the historic Jewellery Quarter.
Over the past couple of months I have been volunteering for the Birmingham Conservation Trust on their Heritage at Risk project which has involved surveying the grade II listed buildings in the Jewellery Quarter. Following on from fellow volunteer Julie Webbs fantastic blog for the Birmingham Conservation Trust Website about our experiences of the project so far I thought I would write my own blog about two buildings we surveyed which particularly caught my eye.
The two buildings in question are no's 25 and 27/29 on Constitution Hill. Both are prominent corner plots with unusual ceramic tiled façades with ornate terracotta motifs which stand out against the surrounding mixture of brick workshops and warehouses. Both properties are grade II listed and have a distinctively Italian feel with 'Italianate' detailing and colours reminiscent of 16th century renaissance architecture. This revival style was popular during the 19th century and I think both buildings would not look out of place on the streets of cities such as Rome, Naples and Milan.
No's 27-29 is a public house called the Hen & Chickens which was built around 1880 and is the older of the two buildings. It still functions as a pub specialising in Indian cuisine and is definitely worth a visit as they do a fantastic tandoori mixed grill. The public house is 3 storeys high with a parapet wall at the eaves and a series of arched and double arched windows. Opposite is No 25, a commercial building of four storeys built a couple of years later in 1882.
In my opinion it is the materiality and colouring which makes both these buildings so unique . Both buildings have façades of yellow and white ceramic tiles with red brick arches and terracotta dressings. Floral motifs and intricate stone carved cornices adorn the frontages; highlighted in deep red terracotta.  The use of architectural ceramic and terracotta as a building material became popular during the latter half of the 19th century. It was relatively cheap in comparison with stone and could be mass-produced into various shapes and block sizes in a variety of shades and colours. One disadvantage however was its ability to blacken due to the smoke and pollution of a typical Victorian city, which is evident on the façade of the Hen & Chickens public house.

The Italian influence is evident in the way the façades are articulated with neo-classical proportions and elements. A strong rusticated base with pilasters flanking  windows sits at street level, a series of arched windows on the upper floors rises up to a stone entablature and decorative cornice. No 25 has a stone balustrade detail on the corner with carved urns crowning the top of the vertical half pilasters which are broken up with pediment details at window sill height. At the time of completion these vibrant and decorative façades must have looked extremely striking against the backdrop of a smoky industrial city.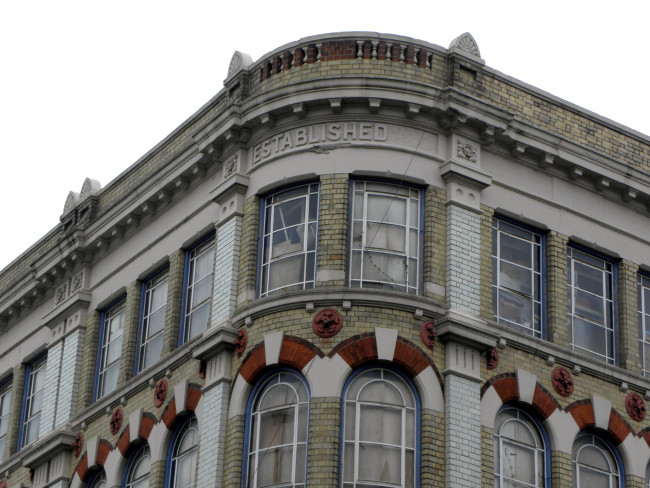 The similarities between these two buildings made me wonder if they were built by the same architect/builder or if there was perhaps some other connection. During my research I found that No 25 was originally built as the premises for Piano manufacturers and retailers 'Henry Riley & Sons' who stayed in the building until the mid 1930's.  Building work started in 1881 and it was designed by a builder called William Davis. It is believed that Davis was also responsible for the design of No's 27-29 several years earlier but I cannot find any details in writing.
If anyone has any interesting stories or further information to share about these two unique buildings I would love to hear from you.
Facts:
Location: Nos 25-29, Constitution Hill, Hockley, Birmingham.
Year: Circa 1880's (1880 & 1882)
Use: Public House & commercial Palazzo
Style: Italianate, renaissance/baroque revival style
Material: Yellow/buff & white ceramic tiles, red brick, red terracotta dressings.