Ways to support us!
There are four main ways you can help: Join our Supporters Group, Shop,
Donate or Volunteer!
---
Join Our Supporters Group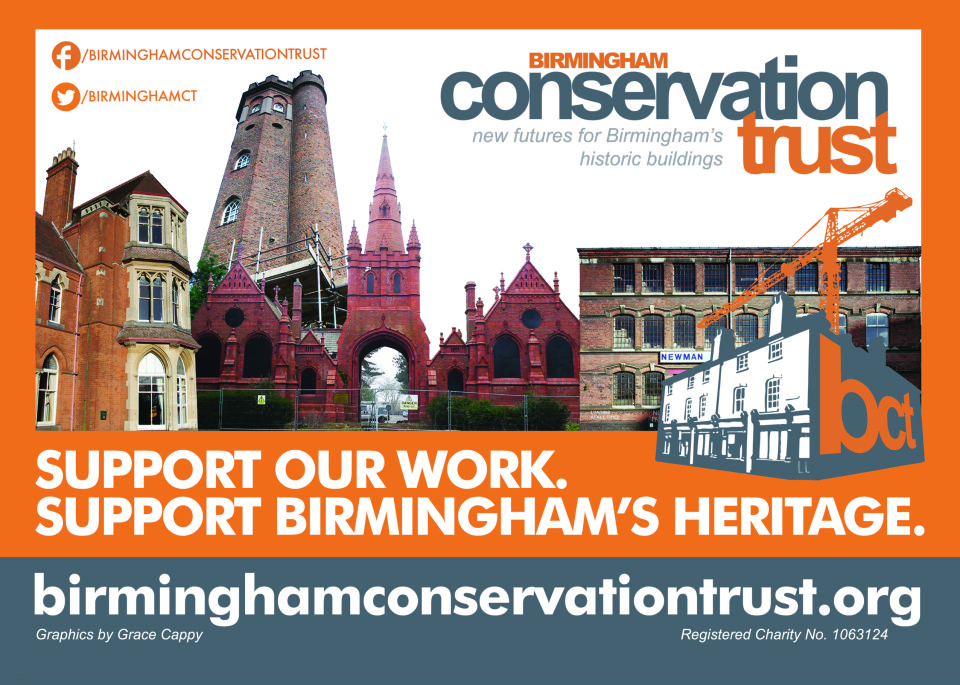 ---
Shop
If you shop on Amazon we can receive a minimum of 5 per cent of what you
spend.
What you buy costs the same – it's just that we get the referrers commission for what you buy.  So imagine a big Christmas shop also means you're supporting our work in protecting threatened buildings.  Please shop using the link below:
---
Other ways to donate
If you would like to leave a bequest contribute through your pay packet using Give as You Earn or donate by cheque or postal order (A Gift Aid Form can be downloaded here) then please write to:
Birmingham Conservation Trust, The Coffin Works, 13-15 Fleet Street, Birmingham B3 1JP
Please make cheques payable to Birmingham Conservation Trust. For information please call 0121 233 4785
Give as You Earn can be done on a regular basis through your company payroll. It allows us to significantly increase the value of your contribution through claiming up to 50% extra from the taxman.
Online donations can be made on the Big Give website.
https://secure.thebiggive.org.uk/donation/to/9275
Text donations can be made via our JustText Giving account.  Our current text fundraising is for our Coffin Works guidebook.  Text BOOK20 then £ (followed by the amount you wish to donate) to 70070
Registered Charity No. 1063124
Company Registration No. 3380637
Trading Company No. 02396218
VAT Registration No. 754 1150 55
---
Volunteer

We love working with volunteers and as a charity with a very small team of
paid employees we could not operate without them!
Most of our volunteering opportunities are at Newman Brothers at the Coffin Works which we own and manage, so please do visit the volunteer pages on our Coffin Works website to see what we have to offer. We appreciate every moment you spend helping us