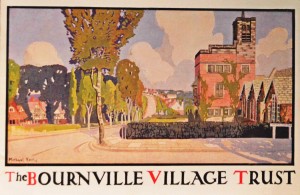 I couldn't continue my intermittent Arts and Crafts series without mentioning Bournville, the model village cum garden suburb that Pevsner describes as "perhaps the fullest expression of Arts and Crafts ideals" in Birmingham. On a personal level, I have a strong connection to Bournville as many of my family lived locally and were Cadbury workers, and I only live up the road. My Great Uncle Fred was a cocoa buyer in Accra, Gold Coast (now Ghana) and Great Uncle Arthur was the foreman of the 'waterside' depot, where canal boats trains delivered the materials for the Bournville factory: so, Arthur unpacked in Birmingham what Fred shipped from West Africa! Meanwhile, my Great Auntie Elsie painted some of those beautiful chocolate box designs.
In the 1870s, the Cadbury brothers – George and Richard – decided to move their chocolate business out of the city to the greener surroundings of Stirchley Street, which allowed their business to expand and had the necessary canal and railway connections for milk and cocoa deliveries. The brothers chose to call the factory 'Bournville', after the Bourn Brook, with the 'ville' intended to impart a soupçon of continental glamour, Swiss chocolate being considered the best. The Cadburys were civic minded Quakers who, appalled by conditions in industrial central Birmingham, had a vision of a 'factory in a garden'.
The story of Bournville the model village is internationally important in influencing garden city ideals, and was a progression from earlier paternalist company villages like Saltaire (1851) and Port Sunlight (1888). Developed by George Cadbury from 1894, the village was planned as a Utopian social experiment for progressive private housing development. The aim was to provide housing in a healthy environment affordable to working people – even from the outset fewer than half of residents worked at the factory. Areas would be laid out as parks, recreation grounds and open space. In keeping with Quaker temperance convictions, there would be no pubs (there still aren't) but there would be improving civic amenities, like Bournville Baths and the Ruskin Memorial Institute, reflecting the influence of John Ruskin on the thinking of the time. The pioneering Bournville Village Trust followed in 1900, putting the venture outside of the direct control of the factory, to administer and develop the village and to provide tenanted houses for those who could not afford to buy one.
George Cadbury put enormous faith in William Alexander Harvey, a young architect whose only previous commission was a small row of houses in Stirchley, by making Harvey resident architect. A student of WH Bidlake at the Birmingham School of Art, his Arts and Crafts movement grounding would have been a good fit with the Cadburys' ideals and their plans for Bournville. That faith paid off as Harvey created an array of charming Arts and Crafts cottages and public buildings scattered around a village green. There is a pleasing variety of Arts and Crafts styles, with quite obvious influences in some cases, from CFA Voysey and WH Bidlake to, AS Dixon (Church of St Francis of Assisi) and Edgar Wood (Friends' Meeting House).
George Cadbury was also an early conservationist, reconstructing the 16th century timber-framed Selly Manor from nearby Selly Oak in 1912-16 (the earlier Minworth Greaves Manor followed in 1929-32).
Later on, a number of independent and cooperative societies leased land from the Trust to develop the model village into the garden suburb it is today, including the Bournville Tenants' Estate which was also designed by Harvey. The Bournville Village Trust continues its work, both at Bournville itself and elsewhere in the Midlands. Its enormous archive is now held in the Library of Birmingham, but there is a fascinating collection on the local history shelves of Stirchley library (itself standing on land given by Cadbury) including volumes of the works magazine, several excellent books and the amazing A Century of Progress, published by Cadburys in 1931 for its centenary – the posters here are mostly taken from this publication.
Who knows whether chocolate will still be made here in another century in this age of footloose multinational corporations. But the place that William Alexander Harvey, George Cadbury and the Bournville Village Trust created has truly stood the test of time to the extent that is was named as possibly the nicest place to live in Britain by the Joseph Rowntree Foundation in 2003, and continues to exhibit a gentle Arts and Crafts class. Usually with the faint whiff of Dairy Milk…