William Henry Bidlake was probably the foremost Birmingham architect of the Arts and Crafts era. Yet, despite being known in his own time as "the man who rebuilt Birmingham" and being responsible for three of the city's 22 Grade I listed buildings, he today seems to be a relatively obscure figure. This is possibly because his buildings are mainly in suburban locations, at least two of his few commissions in the city centre having been demolished in the 1960s, including one of his rare commercial buildings for Keep Brothers on Great Charles Street.
The son of Wolverhampton architect George Bidlake, William was a pupil of Bodley & Garner, who were leading Gothic Revival architects in the late 19th century. This Gothic grounding influenced Bidlake's church work in particular, but his works are also significantly influenced by Arts and Crafts movement ideals.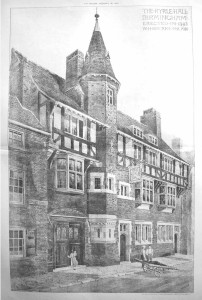 Along with Arthur Stansfield Dixon, Bidlake was an active member of the Kyrle Society and designed its (now demolished) Kyrle Hall in Sheep Street (1893). Like several other Arts and Crafts architects he taught at the Birmingham School of Art – serving as the Director of the School of Architecture from 1919-22 – and designed the Moseley College of Art (1899), one of the first municipal branch art schools and now sadly in a poor state of repair.
Aside from these buildings, Bidlake's work mainly divides into two categories: large
houses and ecclesiastical buildings. One of his first major commissions was the Church of St Agatha, Sparkbrook (1898), which is considered to be his masterpiece and is Grade I listed. It was funded by the sale of the sites of demolished city centre churches Christ Church – where the modern Victoria Square is – and St Peter. St Agatha's soaring tower is a distinctive landmark travelling into the city along Stratford Road and thankfully survived the Birmingham Tornado in 2005. Also, unlike quite a few other churches in the area it is still open, and is the home of the Birmingham City Amateur Boxing Club too.  The nearby vicarage on Sampson Road (1901) still survives, but does not seem to be in good shape (a wheel-less Vauxhall Vectra on bricks is always going to detract a bit from the character of a heritage asset…).
The success of St Agatha's led to commissions for several more churches around Birmingham, including Bishop Latimer Memorial Church, Winson Green (1902), Emmanuel Church, Wylde Green (1905), the Grade I listed St Andrew's Church, Handsworth (1907) and the tower at the Church of St Mary, Wythall (1908).
Bidlake was also known for fine Arts and Crafts houses; five on the Four Oaks estate – including Woodgate, which he designed for himself in 1896, and 17 Barker Road – The Hurst, Amesbury Road, Moseley (1908) and St Clears, Farquhar Road, Edgbaston (1913). The largest, Garth House, Edgbaston Park Road (1900), was designed for Ralph Heaton of the Birmingham Mint, and is now used by the University of Birmingham. It is distinct from Bidlake's other houses in the simplicity of its design and the use of white roughcast, and is of international significance as it was singled out in Herman Muthesius's Das englische Haus, which influenced the development of the Modernist movement.
In 1904, Handsworth Urban District Council commissioned Bidlake to design Handsworth Cemetery, and was given full responsibility for designing everything from the grounds to the building of the Grade I listed mortuary chapel, lodge and cemetery gates, all built between 1908 and 1910 before the cemetery was taken over by Birmingham when the City expanded in 1911. The chapel has been in a poor state of repair, to the extent that it was closed for public use and appears on English Heritage's Heritage at Risk Register. Thankfully, repairs are now underway and the chapel is currently surrounded by scaffolding to complete the restoration.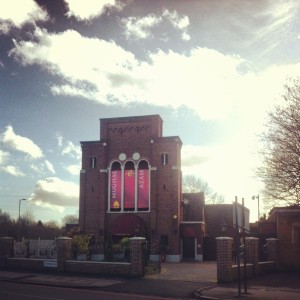 In 1924, Bidlake moved to Sussex (apparently causing scandal by marrying an actress 20 years younger than him), where he continued to practise until his death there in 1938, although he always maintained an office in Birmingham. His last significant work was the Sparkhill Congretational Church (1932), further down Stratford Road from St Agatha's. In contrast to his earlier churches, this one incorporates Romanesque and Art Moderne influences, showing he was prepared to move with the times whilst retaining his Arts and Crafts sensibilities. After several years of dereliction, this church has been inventively converted to the Mughal E Azam restaurant.
Bidlake died in Sussex in 1938, but – reflecting his apparent modesty in life – he is buried  in an unmarked grave at Handsworth Cemetery.