You cannot live in or near Birmingham and fail to recognise this building. In 1965 it surpassed the Chamberlain Clock Tower at Birmingham University to become Birmingham's tallest building at 499 feet /152m high. It was built as the General Post Office (GPO) Tower to be a communications relay in concert with nearby Telephone House in Lionel Street.
In the 1960s the GPO ran the telephone and telecommunication network in the UK on behalf of the Government. Cables and wires had been sufficient for phone calls but demand was increasing, especially as television signals were transmitted across the country. Microwave radio could carry TV through the air over long distances. Radio needs an aerial or antenna to collect the signal. For microwaves, the aerial isn't a length of wire but a square-section horn. Huge horns on tall towers could collect and re-transmit signals in relays.
The GPO was later split into the Post Office and British Telecom. Changes in technology saw the horns replaced by big dishes like those used for satellite TV. The newly renamed BT Tower got a coat of light brown paint; in my mind, a similar shade to the trimphones that replaced bakelite GPO handsets.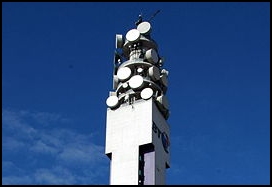 Now even the biggest of the dish aerials have gone from around the top of the BT Tower and the beige colours have been replaced by blue tones. It looks much less cluttered but I do miss the horns.