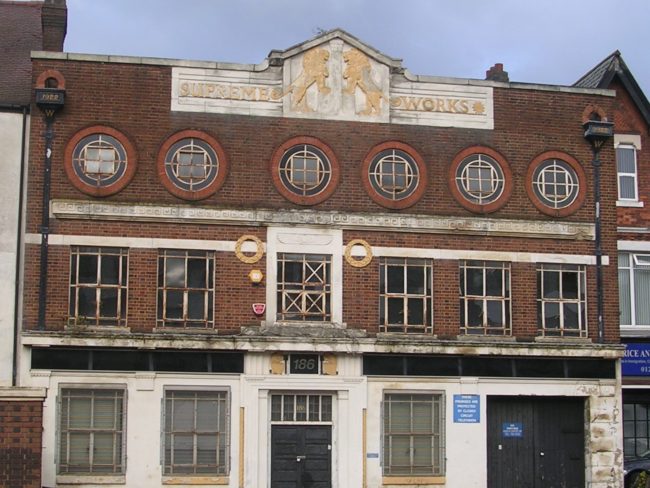 By David Evetts
This distinctive building by the architect Holland Hobbiss sits on Soho Hill in Birmingham, not far from Soho House. It housed jewellery makers, goldsmiths and silversmiths when it opened in 1922.
It has a very different look to many nearby properties which range from modest Victorian houses to relatively modern factory buildings and include examples of the terracotta semi-gothic building boom that took place along Soho Road between 1900 and 1910.
The most striking part of the facade is the low-relief carving at the very top. Two lions face each other, rearing up on their hind legs. They look like they could have come from the frieze of a Greek temple. Another carving of two workers at benches appears above the front door.
William Bloye was the artist behind the magnificent lions of the Supreme Works. Other examples of his low-relief sculptures can be seen around Birmingham such as The Bear Inn and The Antelope public house in Sparkhill.  He also created the Mermaid outside the Guild of Students at University of Birmingham. His best-known work must be the Boulton, Watt and Murdoch trio known as "The Golden Boys" in Broad Street.