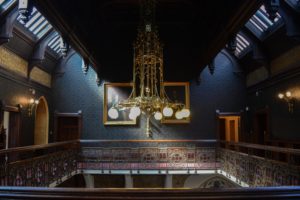 Spoilt for choice at Heritage Open Days earlier in the month, my Sunday selection was the beautiful Highbury Hall. Having never really explored the extensive grounds before, we set of in search of the apiary and the orchard where there were plenty of interesting activities going on.
Back at the house, today's Friday photo is of the timber roof and ornate chandelier in the great hall.
Designed by J.H. Chamberlain, one half of the prominent Birmingham architects Martin and Chamberlain, Highbury Hall is the Grade II * listed past residence of Joseph Chamberlain, former Mayor of Birmingham, of whom we got to see a new portrait unveiled on the open day.
The estate is now managed by the Chamberlain Highbury Trust. For more Highbury history and information you can visit the trusts website here