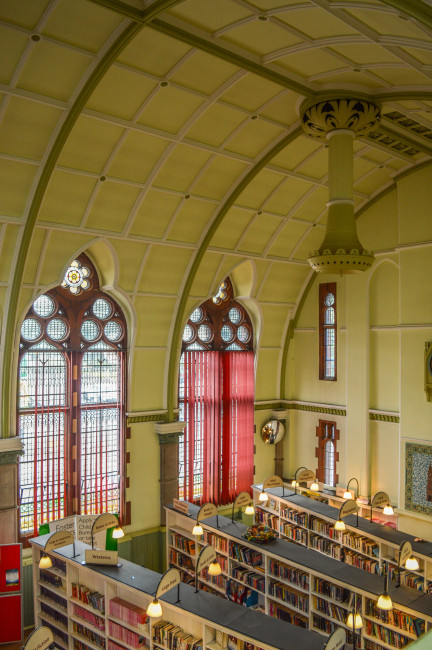 Today's Friday photo is of the grade II listed Spring Hill Library. It was designed by the Birmingham architects firm Martin and Chamberlain and opened on January 7th 1893. Constructed of red brick and terracotta with a 65ft clock tower, It uses typical gothic elements and ornate decoration in the form of terracotta reliefs. This stylistic design of Martin and Chamberlain will be familiar, as they were responsible for designing a large number of buildings within Victorian Birmingham. This included libraries, public baths and the majority of the Birmingham Board schools, which were made necessary by the Elementary Education Act 1870. Several of their schools were demolished but of those that still exist, some are still in use as schools and some have acquired new uses such as the Oozells Street Board School, which is now the Ikon Gallery.
The photo shows the tall vaulted 'reading room', which is now the lending library. Taken from the gallery, you can see two of the large leaded windows, letting an abundance of light into the space and the ornate gas light hanging from the ceiling.
The city council website reports that in its first year of opening, Spring Hill Library issued more books per day than any of the city branch libraries, and in 1895 a man was sentenced to six weeks in prison with hard labour for throwing books around the library and resisting arrest. In the early 1970s the library was saved from demolition as the plans for the Middle Ring Road were re-routed at the last minute.