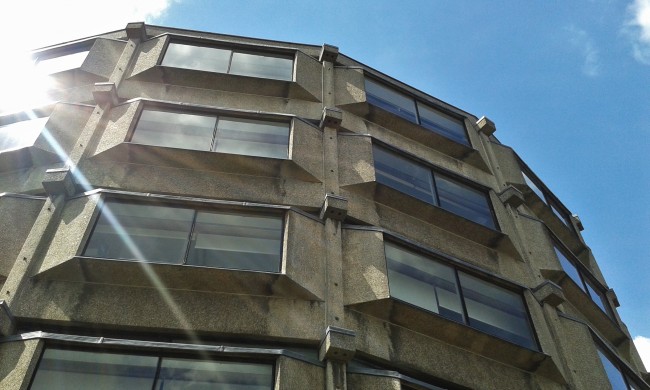 This week's Friday photo is of the Ashley building on the University of Birmingham Campus. It was designed and built along with its neighbour, the Strathcona building, between 1961-64 by Howell, Killick, Partridge and Amis; an architectural firm known for their significant contribution to mid-century educational architecture and a fondness for using pre-cast concrete elements. It is now grade II listed and home to offices of the language department.
The Ashley building is a five-storey reinforced concrete frame in a geometric spiral form. At its centre is a circular atrium with skylight, and a staircase winding upwards around the outer perimeter of the space. It is faced with the pre-cast concrete cladding panels featured in the image and linked via a walkway to the long, curving two-storey block of the Stathcona building.
Both buildings were constructed during the major expansion of the university in the 1960's. The master plan of the campus was re-organised by Casson, Conder and Partners, who also worked on the Cambridge model. The campus-style universities of the late 1950's and 60's, as well as the introduction of the Polytechnic within the British education system, led to a design revolution in educational architecture, coinciding with this shake-up. Such influences
stimulated a move towards a Modernist, Brutalist aesthetic, as shown through these examples at the University of Birmingham.