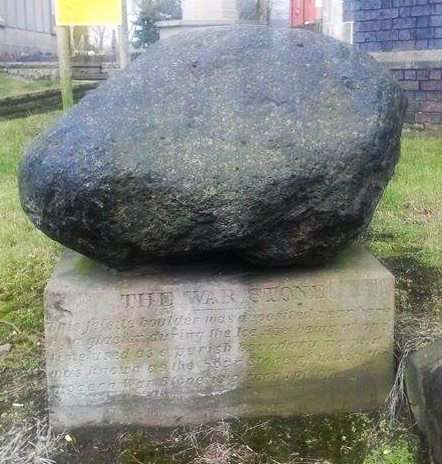 Today's Friday photo is The War Stone rock in Warstone Lane Cemetery in the Jewellery Quarter.  It is a glacial erratic made from the volcanic rock felstone, which was carried here from its parent rock in Wales by glacial ice and deposited as the ice melted.  Originally it was known as the Hoar Stone, which was likely derived from the Old English har stan feld, meaning 'boundary stone field.   It was used as a parish boundary where the manors of Aston, Birmingham and Handsworth met. It has lay in the area for many thousands of years in peace and tranquility until the industrial revolution hit and the sprawling urban landscape of Birmingham and it's emerging Jewellery quarter quickly developed around it.  Today it remains as a monument to the past and has been located on a sandstone plinth with the following inscription:
"This felsite boulder was deposited near here
by a glacier during the Ice Age: being at one
time used as a parish boundary mark, it
was known as the 'Hoar Stone' of which the
modern War Stone is a corruption".