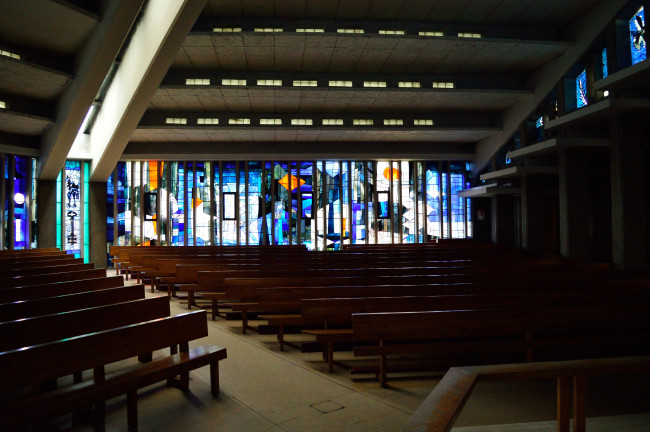 Today's Friday photo is inside the beautiful modernist Roman Catholic church of St Thomas More. The grade II designated building was designed in 1968-9 by Richard Gilbert Scott (son of Sir Giles Gilbert Scott, designer of the iconic red telephone boxes.)
The building was constructed in thick reinforced concrete with a shallow stepped concrete roof and tall concrete steeple. I took the photo in the hexagonal shaped main auditorium, where you can see the fan shaped stepped roof rising upwards in the direction of the steeple and altar. The full-height abstract stained glass windows were designed by the painter John Chrestien; in vibrant blues, turquoise and orange. Its innovative design and plan form was influenced by the Second Vatican Councils radical rethink of the planning of Roman Catholic churches in the 1960s.
The church is part of a group of post-war Roman Catholic churches in this area of Birmingham, including Our Lady Help of Christians by the same architect, reflecting the historical community of Irish immigrants which grew in the area in the 1950s & 60s.