I am now just eight weeks out from the marathon, where has the time gone? As the weeks have passed and the mileage has gradually increased, the trepidation I felt at the challenge of covering the distance is slowly being replaced by excitement at the prospect of what I hope will be a fantastic achievement and the opportunity to spend some quality time in one of my favourite cities.
Training over the winter has at times been challenging. There have been some extremely cold days when the idea of running 10+ miles hasn't exactly been top of my list of ways to spend Sunday. In truth, at one stage after a few difficult long runs I became quite severely disillusioned with the idea! After making some tweaks to my diet and training plan, I had one fantastic run that got me back on track and since then I have made steady progress.
I write this having completed an 18 mile training run, my longest to date. Instead of my usual route along the canal corridors and the Rea and Cole Valleys, I made an impromptu decision at 6.30am to do something of a nostalgia trip. It started by accident in the city centre, when I realised I had run past three of my former offices. Why not run past every office I had worked in?
From Brindl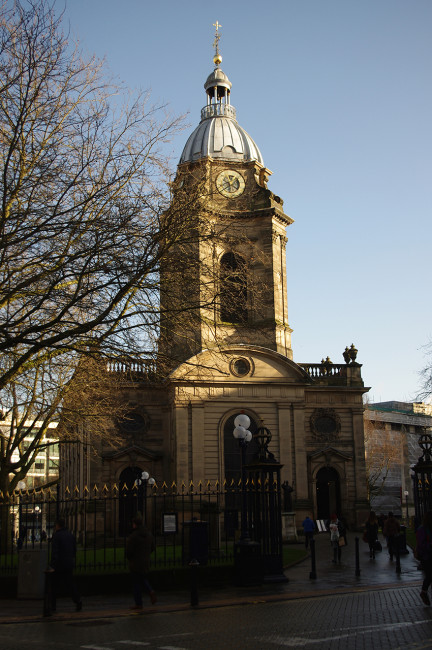 eyplace I needed a new idea. Why not visit my old flat in Edgbaston? Then the one before that? Suffice to say I ended up visiting five former homes and that of my grandparents…. in West Brom. En route, I also took in Edgbaston Reservoir, Warley Woods, Dartmouth Park, a couple of nature reserves and Sandwell Valley. It's amazing what you can do in 18 miles!
I also had the chance to take in in some of Birmingham and the Black Country's fantastic heritage buildings. I won't take your time up talking about the city centre, as I'm sure most are familiar – although I must mention St Philip's which celebrates its 300th anniversary this year and looked stunning in the dawn sunshine.
In Edgbaston, I took the opportunity to run down St Augustine's Road to see one of my favourite residential squares, with J.A. Chatwin's towering grade II* St Augustine's Church at its centre. For me, this part of Edgbaston is every bit the equal of any of the finest residential suburbs in the country.
West Bromwich was barely recognisable as the town I knew in the early '90s. I was particularly taken by the fabulous pavilion in Dartmouth Park, designed by the Jewellery Quarter's Bryant Priest Newman Architects and Urban 180, a town centre residential development by Accord Housing Association.
As I wound
my way back to the city, I had the chance to take in the fantastic skyline before finally arrived back at St Paul's. I felt a real confidence boost that I am going to be able to do this!
Katie Kershaw is running the Paris Marathon to raise money for Birmingham Conservation Trust – please support her – and US!
If you would like to donate, here is a link to the JustGiving page:
Go Katie go!!