Launched today is a brand new exhibition at Birmingham's newest heritage attraction. 'Remnants & Traces' is a series of 3 exhibitions created by members of the Midlands Textile Forum in collaboration with Newman Brothers.  It runs from 3 February to 24 April 2015 and is free admission. Visit during usual opening hours.
This series of 3 linked exhibitions charts the group's personal responses to Newman Brothers Coffin Fitting Factory.  The textile pieces on display are inspired by the factory during its restoration, its contents, the people who worked there, memories, the act of remembering, mortality and funerary practices.
Jane Arthur, who has organised the Exhibition said, "We are delighted to work with the team at Newman Brothers on this series of textile exhibitions.  The chance to work over time, visit the building, handle and use some of the fittings, coffin linings and shrouds has been a wonderful opportunity for the Textile Forum."
Judith Rowley, the Chair of the Midlands Textile Forum, added "We would like to extend a warm invitation to everyone to come along to Newman Brothers at the Coffin Works to see the diversity of our artists' work interpreting this theme."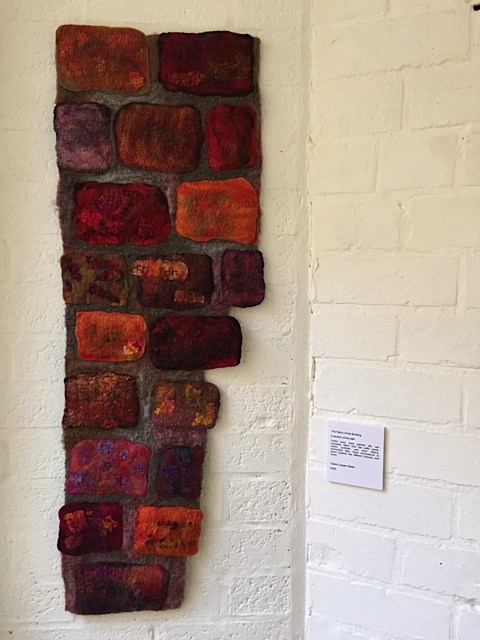 The first exhibition features the work of Diana Browne, Sarah Cage, Claire Cooper Walsh and Maggie Hands.  There is an opportunity to meet the Artists on Saturday 7 February 10-12, discuss the themes and content of the exhibition and afterwards take a factory tour (usual admission applies). This first exhibition runs until 27 February.
Continuing Remnants & Traces at Newman Brothers:
2-27 March – featuring work by Jane Arthur, Ann Brammer, Ann Paterson, Julie Ring and Judith Rowley.
Meet the Artist, 7 March 10-12.
30 March – 24 April – featuring work by Jenny Beasley, Yvonne Flavell, Pat Foster, Marilyn Hall and Brenda Marshall. Meet the Artist, 11 April 10-12.
The Midlands Textile Forum is a group of textile artists who live and work in the middle of England. Our aim is to support and encourage textile activity in the region primarily through exhibitions.  We have held successful exhibitions at the Nicholson Institute, Leek, St Martins in the Bullring, Birmingham, Birmingham Botanic Gardens, Shropshire Hills Discovery Centre, Forge Mill Needle Museum, Redditch, and Nature in Art, Gloucestershire.