The funeral of Sir Winston Churchill, the largest state funeral that had ever been mounted, took place on 30th January 1965.  The nation mourned the death of the man who had led Britain to victory in the Second World War and who is for many 'the greatest Briton'.
Newman Brothers were incredibly proud that the fittings used on Churchill's coffin were made at their factory.  We will be celebrating the event in a special evening of commemoration on Friday 30th January.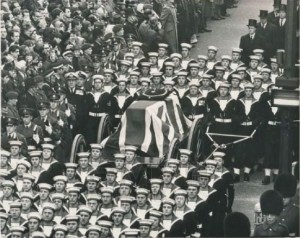 Using various rooms of the atmospheric factory, looking much as they did at the time of the funeral, the evening will include a chance to hear again some of Churchill's most inspiring speeches from 1940, the year that Britain was in greatest threat of invasion from Nazi Germany.  There will be an illustrated presentation on the pageantry of the funeral itself – 'Operation Hope Not' – from the lying in state in Westminster Hall, through the service in St. Paul's Cathedral and the procession of the coffin along the Thames by boat and thence by train to Bladon, near Churchill's birthplace at Blenheim Palace, where the interment took place in private.
Finally, visitors will have the chance to view examples of the type of coffin furniture used on Churchill's coffin, which have been recently discovered amongst the huge Newman Brother's collection.
Download event poster Commemorating 50th anniversary of Winston Churchill's state funeral Event Poster
Tickets £7.50, including refreshments
Friday 30th January, 7.30pm
PRE-BOOKING ESSENTIAL
0121 233 4790 newmanbrothers@coffinworks.org
Or book online http://bit.ly/churchillevent  (small booking fee applies)