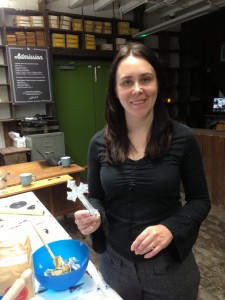 Yesterday, we had our first full team meeting and it marked the start of a new era!
We have been joined by our new Learning Manager, Lorraine Kenny, who will be leading on education and outreach for the Coffin Works. Lorraine worked previously as the Head of Education and Outreach atThink Tank and brings with her a wealth of hands-on and strategic experience to get our learning programmes set up and running.
Lorraine says,
"I'm really looking forward to having the factory full of children, bringing it back to life. Having worked in heritage roles with British Waterways and Birmingham Museums Trust I have spent much of my career getting children excited about Birmingham's heritage. I love the fact that this project isn't just about what has happened in the past but it is a new  visitor destination for people from this city and from further afield".
Being thrown in at the deep end, Lorraine is busy planning family activities for half term when we open.  I also have the sneaking suspician that Lorraine will be 'team mum' (she brought the cakes for the first team meeting!)
Please join me in welcoming Lorraine to the team.
3 weeks to go until we launch!!!!!