There was good news this month when it was announced that the 28 storey Alpha Tower building at the bottom end of Broad Street/Suffolk Street has been given grade II listed status by English Heritage. This sculptural modernist tower which was built in 1973 has always stood out as an elegant and stylish addition to Brums skyline.
It was designed by George Marsh of Richard Seifert & Partners to be the new headquarters of ATV Television Company and remained their HQ until 1982. Ownership was then transferred to Birmingham City Council who remained tenants until 2010. Earlier this year it was bought by the Anglo Scandinavian Estates Group who will refurbish the building as new offices for let.
The tower has a subtle elegance and sophistication not usually associated with the architecture of 1960-70's Birmingham. It is a rare contrast against the loud, colourful and bold buildings of recent years such as the Cube and Selfridges and a departure from the concrete brutalist architecture which dominated at the time of its construction. It has a simple but elegant façade with a cranked geometry lined with rows of square aluminium windows. Its clean crisp lines and white cladding cut a striking figure against the blue skies of Birmingham on a sunny day.
The tower has an unusual cranked floor plan which tapers at the sides. The two ends narrow to form pointed corners with a central channel running up the entire height of the tower, almost appearing to split the building into two halves. 28 concrete floors sit on a series of tapered supports cut out at the base- a pilotis. The interior plan reflects the angled exterior with a cranked shaped service core containing the lifts and toilet blocks which sits in the centre of the plan. The tapered ends contain the stairwells.
The building frame is made of out reinforced concrete with pre-cast concrete panels punctured with square windows to form the curtain walling. Despite being constructed out of concrete the tower looks quite lightweight almost like it was folded carefully out of paper; a piece of sculptural origami.
It is very similar in style to an earlier skyscraper in Milan, Italy called the Pirelli Tower which I believe may have been the inspiration for the Alpha Tower. It was built in 1960 and designed by Giò Ponti, Pier Luigi Nervi and was one of the first towers to drastically abandon the conventional concrete box form which was ubiquitous in the 1960's. The Pirelli Tower was also built out of reinforced concrete but like Alpha Tower looks deceptively lightweight and could be mistaken for steel frame construction instead.
It is reassuring to know that progressively more mid-20th century modernist buildings are being granted listed status and will be protected for the future. Alpha Tower was built at the peak of post-war development along with other major buildings such John Madins Central Library (1974). It is a reminder of just how innovative and forward thinking Birmingham was during those post war years of mass regeneration and how it continues to keep pushing forward with current/future redevelopments such as the Library of Birmingham, New Street Station & Arena Central. Birmingham has never been afraid to keep reinventing itself, it doesn't always get it right but there is no denying that it isn't afraid to give it a go!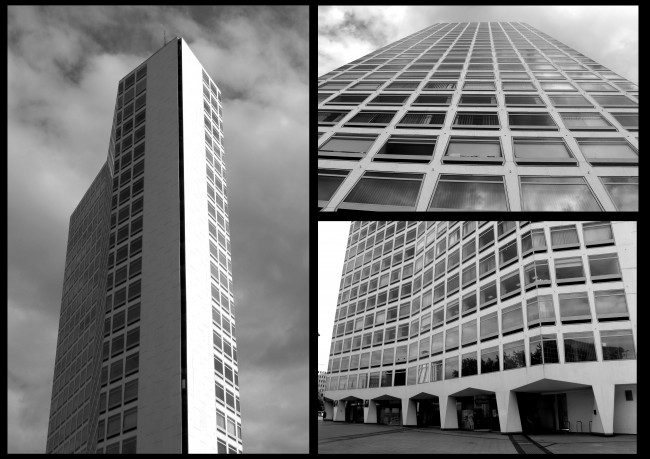 I have always been fond of Alpha Tower and the recent announcement of its statutory listing has reminded me of its architectural significance. The buildings strong angles and sharp lines rise up from the sunken plaza it sits within on Suffolk Street and pierce into the sky creating quite an iconic landmark.
I am glad that this building is finally getting the recognition and column inches it deserves. I recommend a wander up to the roof terraces of the new Library of Birmingham for some fantastic views of Alpha Tower and the rest of the city.
Facts:
Location: Suffolk Street, Queensway, Birmingham
Year: 1969-1973.
Architect: Richard Seifert & Partners
Use: Commercial office tower.
Style: Modernist
Materials: Reinforced concrete skeleton with pre-cast concrete & glazed curtain walling.
Status: Grade II Listed
Other: Third tallest building in Birmingham (as of 2014)
For more information: