In my post on the Lozells and East Handsworth Heritage Trail, I mentioned the area's rich musical heritage. The diversity of Handsworth has helped to nurture an amazing variety of musical talent down the years: the jazz of Andy Hamilton and more recently Soweto Kinch, singer-songwriter Joan Armatrading, the Brum Beat of Steve Winwood and the Spencer Davis Group, the soul and gospel of Ruby Turner; not to mention Bhangra (the Soho Road to the Punjab website tells the story very well). However, because I'm an obsessive fan of Jamaican music, I wanted to blog about the huge role that Birmingham – and in particular Handsworth – has played in UK reggae. At one point in the 1980s, Birmingham had probably the three biggest-selling reggae acts in the world in Steel Pulse, UB40 and Musical Youth. Yet for some reason – UB40 and Pass the Dutchie aside – Birmingham's reggae heritage isn't something all that widely known in or celebrated by the city. The story is one of blues parties, sound systems, record shops, labels and bands – and some great music.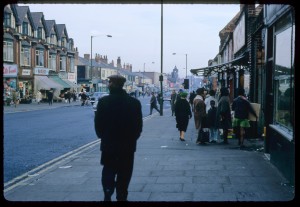 In the post-war years, alongside South Asian, Irish and white working class Brummies, the Afro-Caribbean community made its home in Handsworth, to the extent that local hero and dub poet Benjamin Zephaniah described it as "practically the Jamaican capital of Europe". Blues parties – or 'shebeens', borrowed from the Irish síbín, literally meaning 'illicit whiskey' – happened in all kinds of venues, from private houses to factories (brilliantly, Steel Pulse even played one of their first gigs in the back room of Handsworth Library), alongside more conventional clubs like Frontline and the Ridgeway and pubs. These parties were a focal point of the Jamaican community, to hear music from 'back home' – ska and then rocksteady in the 1960s; later roots reggae and dub – free from the potential hassles of city centre pubs and clubs. Local venues like the Santa Rosa, the Rialto and the Monte Carlo played host to legendary Jamaican singers like Burning Spear, Delroy Wilson, John Holt, Ken Boothe, Dennis Brown and one of my all time musical heroes Alton Ellis (that's him at the top). People came from all over the city, and further afield, for nights out around the Soho Road. Later, even some clubs in town – at least at Eddie Fewtrell venues like Venue Barbarella's, Rebecca's and the Cedar Club – also came to embrace reggae.
Burning Spear (left) and Ken Boothe (right)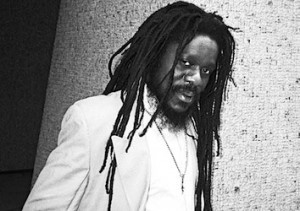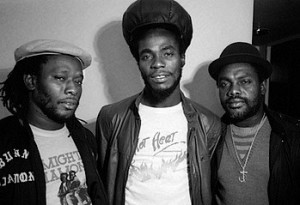 Dennis Brown (left) and the Mighty Diamonds (right)
Another important import from Jamaica was the concept of the 'sound system' – in English terms, essentially very impressive mobile discos with turntables, generators, enormous speakers, selecters (who pick the records) and deejays (chatting or 'toasting' on the mic). In contrast to the UK, the Jamaican music industry was mainly developed by producers – like Clement 'Coxsone' Dodd (whose son 'Junior' Dodd was based in Birmingham for a time), Arthur 'Duke' Reid and Cecil Bustamente Campbell (better known as Prince Buster) – making records to play on their own sound systems with great singers, groups and studio musicians. Sound systems would therefore compete with one another to play the best, latest, loudest and rarest tunes.
In Handsworth, among those sound systems to pick up this Jamaican template were Quaker City (founded 1966 and still going), Wassifa (founded 1972 and also still going) and Siffa. Quaker City gave a break to Gladdy Wax, whose sound system is these days a yearly staple and highlight of the Notting Hill Carnival. A young Bitty McLean, whose dad ran the Chelmsley Wood Sound in the 1970s, cut his teeth singing with Wassifa and other sound systems. (Incidentally, if you only remember him from his mid-1990s chart efforts, you should seek out his later albums like On Bond Street, where he puts his vocals over vintage 1960s rhythms Duke Reid productions.) You can see a great little video on Quaker City and the UK sound system scene here, which traces the origins of sound system culture, its role in uniting disaffected black youths, its positive social impact and even its role in the birth of rave culture.
Lee 'Scratch' Perry
Meanwhile, several record shops selling Jamaican imports sprang up in the 1970s. The most prominent were Keith Thornton's Black Wax shop on Lozells Road, emblazoned with the distinctive Gorgon's head that also featured on the records they issued, and Brian Harris's on Grove Lane, known later as Mango. Between them their labels – Black Wax, Mango and Locks – gave UK releases to Jamaican greats like Pat Kelly, Lee 'Scratch' Perry, Justin Hinds, the Mighty Diamonds, Leroy Smart, Tappa Zukie, Gregory Isaacs, Susan Cadogan and Junior Byles, in most cases well before they were picked up by major labels in the wake of Bob Marley's international success. (As you can see from the photos below, following a chance discover at The Diskery, I have slowly been trying to repatriate some of these records to Brum.) The two also became pretty much the national centre for the wholesale reggae import market. Keith Thornton was later behind Tempest Records on Bull Street in town, which sadly closed its doors in 2010. Brian is still semi-active, most recently putting out several excellent ska collections produced by soundman Vincent 'King' Edwards, who he told me casually he met "in Jamaica back in sixties"…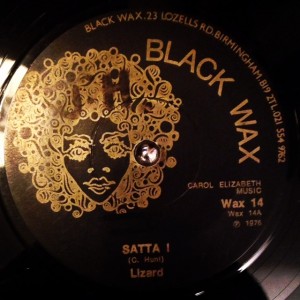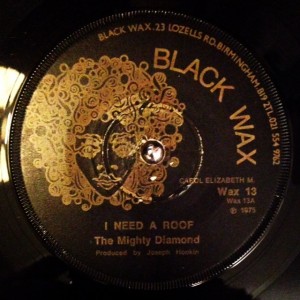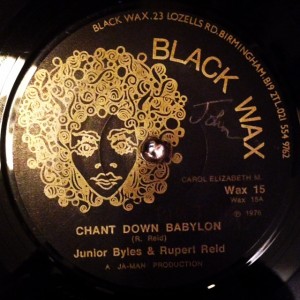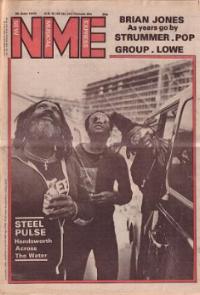 This vibrant environment provided fertile ground for lots of bands; some successful, others lost to history (at least in recording terms). The most prominent was Steel Pulse, who took the rasta themes of Jamaican roots reggae and put it in an inner city Birmingham context. After a couple of albums on independent labels, they signed to Island Records, found some common cause with anti-establishment punk rockers, headlined Rock Against Racism and made the cover of the NME. Their Handsworth Revolution album (1978), with its mixture of social commentary on issues such as racism and discriminatory policing, and sadly prophetic warnings of conflict, ranks as one of the landmark reggae albums, UK or anywhere else.
Around the same time, The Beat were also based in Handsworth. They fused ska, punk, pop and soul to original effect, and their multiracial line-up included St Kitts-born drummer Everett Morton and toaster Ranking Roger alongside white working class Brummies Andy Cox and Dave Wakeling (and David Steele from the exotic Isle of Wight…). By the time of the their first single, a cover of Tears of a Clown on The Specials' 2-Tone label, they had been joined by an older Jamaican saxophonist – Lionel 'Saxa' Martin – who had played with Prince Buster and (apparently) The Beatles, who they met in The Crompton Arms pub. Handsworth was gigging territory for other Birmingham bands too, like Musical Youth (formed in 1979 at Duddeston Manor School) and Moseley's Beshara, who had a reggae chart hit with lovers rock tune Men Cry Too, but were equally at home playing roots reggae and backing some of the touring Jamaican acts mentioned earlier.
These were really only the most prominent of a whole series of Handsworth reggae acts. Outside of the mainstream music industry, in the early 1980s Black Symbol released their music in small numbers on their own label, as well as the highly sought-after Handsworth Explosion compilations. The latter records were intended to support other talented artists in their community and were recorded, released and distributed without any outside help. Thankfully, more than 30 years on, these records are now being re-released by Bristol's fantastic Reggae Archive Records. On Black Symbol Present Handsworth Explosion Volume II – apparently Volume I is due later in the year along with some other Black Symbol reissues – you can hear some really special reggae from otherwise obscure acts (to me, at least) Man From the Hills, Black Knight and Mystic Foundation, alongside Black Symbol themselves and a young Benjamin Zephaniah. Reggae Archive has also released an excellent compilation by Eclipse, " one of the great lost reggae bands of Britain" friends and contemporaries of Steel Pulse, who never achieved the same level of commercial success, and its sister label Sugar Shack has put out Journey, the first new Black Symbol release in 30 years. Hopefully there will be more of the same Brummie reggae to come from them.
A little later came Pato Banton (here in scorching and occasionally hilarious form on the 1985 Handsworth disturbances) and Apache Indian, who both had massive chart success in the 1990s. Apache Indian – aka Steven Kapur – in particular is a unique product of Handsworth. Born to Punjabi parents, he worked driving Birmingham sound systems all over the country before having a go on the mic himself, blending dancehall reggae with his Indian heritage (e.g. his first record Movie Over India uses The Skatalites' Shank I Sheck rhythm as the basis for a lesson in Punjabi culture).
Born as I was in the same year that Steel Pulse released Handsworth Revolution, it's easy to feel like my generation missed out on a lot of this. Most of the venues are gone, people move on, but the records live on. And luckily Steel Pulse, Apache Indian and Musical Youth will be playing in the splendour of Handsworth Park again very soon…
———————————————————————————————————————————————————–
Steel Pulse (a rare UK appearance), Apache Indian and Musical Youth will all be performing at the free Simmer Down Festival in Handsworth Park on Sunday 20th July 2014.
The black and white photos of the singers here are by Pogus Caesar from the series 'Reggae Kinda Sweet', mostly taken in Birmingham and are used with his kind permission (©Pogus Caesar/OOM Gallery Archive). You can also see more of his photography on the excellent Digital Handsworth website.
For more info on the music and people of Handsworth, try the Soho Melody site, which aims to tell the story of Soho Road and Handsworth over the last 50 years through the eyes of the people who lived there, inclusion Robin Valk's excellent 'Handsworth Evolution' radio programme.