Looking across an area of dilapidated land, Curzon Street Station stands as a silent testament to Birmingham's past. Little remains of the original building beyond the facade we see today. The area was once home to a goods stations and passenger site which covered 10 acres in all and included six lines of railway. The surviving Grade I listed entrance building is testimony to the optimism of a lost age. Designed by Philip Hardwick and constructed in 1838, it is the world's oldest surviving piece of monumental railway architecture. The architecture is Roman inspired by Hardwicks's trip to Italy in 1818 – 19. It has tall pillars running up the front of the building made out of a series of huge blocks of stone. The design of which mirrored the Euston Arch in London, as part of the design the building was to be flanked by two arches leading into the station but these were never built.
Earlier in the month Suzanne blogged about the Hidden Spaces exhibition to be held at Curzon Street Station. I was naturally curious, I've only ever known Curzon Street Station as it stands today and this exhibition provided an opportunity to explore inside a building normally closed and inaccessible to the public.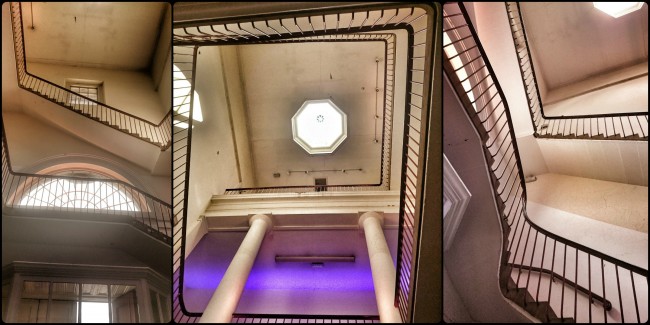 Birmingham's Hidden Spaces is a celebration of Birmingham's rich and diverse architectural heritage, much of which is locked away behind closed doors. It offers a rare glimpse behind the façades of some of Birmingham's best known buildings and also reveals some lesser-known hidden spaces within the city.
If you think you know all there is to know about Birmingham think again! I was fascinated by one of the exhibits – the Anchor Exchange BT Tunnels which I never knew existed…
"approximately 35 metres beneath the streets of Birmingham lays the remnants of a 1950s hardened telephone exchange, designed to house emergency regional government and sustain Britain's telecommunications network following a nuclear attack. Code named Anchor after Birmingham's jewellery hallmark, it remains as a largely unknown and forgotten part of the city's Cold War heritage. Shrouded in mystery, for public safety, the subterranean nuclear bunker stretches out beneath the city, with tunnels extending from the Jewellery Quarter to Southside and far beyond."
I don't want to reveal any more about the exhibition as there is still time to visit Hidden Spaces at Curzon  Street Station which runs until Sunday 29th June! Open daily 10am – 3pm and there is no need to book.
A handful of 19th century buildings of architectural or historic interest survive nearby to Curzon Street Station, the most significant being the Grade II listed Woodman Public House of 1897 by the Birmingham architects James and Lister Lea in ornate brick and terracotta. Both the Bar and Smoke Room are tiled throughout in Minton tiles. The Woodman stands opposite to Curzon Street Station so do visit and support Birmingham's pub heritage after viewing the Hidden  Spaces exhibition.