The Twentieth Century Society have launched a campaign '100 Buildings 100 Years.'
The society exists to safeguard the heritage of architecture and design in Britain from 1914 onwards. To celebrate the completion of 100 years from the starting date of its coverage of British architecture they are asking for nominations of buildings from each of the years, to show the diversity and brilliance of the architecture they protect.
Take a look here for more information about the campaign and how to nominate a building.
The list currently holds two entries for Birmingham:
Gavin Stamp has nominated Our Lady Help of Christians, Tile Cross, Birmingham for the year 1967 designed by Richard Gilbert Scott.
"In the 1960s, the Second Vatican Council demanded a radical rethink of the planning of Roman Catholic churches and resulted in some remarkable and innovative buildings. Two notable examples are in Birmingham, the work of Richard Gilbert Scott, the architect son of Sir Giles Gilbert Scott whose practice he continued. The commissions for the Birmingham churches, however, were inherited from Adrian Gilbert Scott, his uncle. Scott was given a free hand by the Archbishop, as long as the buildings were cheap. That at Tile Cross was the architect's favourite of the two (the other is at Sheldon)…This is one of the most successful of modern Roman Catholic churches in England."
The second nomination is for the Selfridges department store which was designed by Future Systems. A building which boasts a distinctive and unique façade decorated with over 15,000 aluminium discs.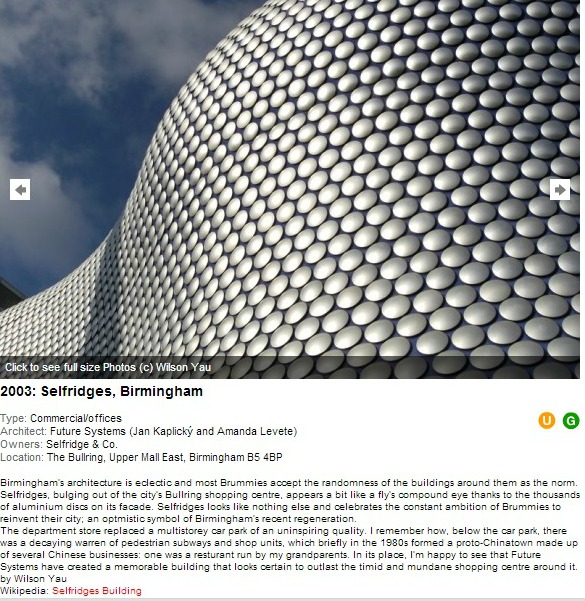 This campaign by the twentieth century society has led me to explore and investigate the buildings of  Birmingham over the last 100 years. In future blog posts I will reveal the changing architectural movements in Birmingham over the last few decades.
The 1930's art deco buildings
The Times Furnishing Company designed by Burnett and Eprile in 1938 now the Waterstones store
The Colonial Mutual Life Assurance building built in 1939 by architects Hennessy
Odeon Cinema, New Street which opened in 1937
1950's
The former Marshall and Snelgrove department store now Britannia Hotel built in 1955
Grosvenor House designed in 1953 by Cotton, Ballard and Blow
The Ringway  Centre, Smallbrook Queensway designed by James Roberts in 1957
1960's
The Faculty of Commerce and Social Science building (University of Birmingham) designed by Howell Killick Partridge and AMIS in 1965
The Signal Box, Navigation Street designed by Bicknall and Hamilton in 1966
The Bank of Scotland, Temple Row designed by Fitzroy Robinson and Partners in 1967
1970's
The Birmingham Repertory Theatre (1971)
Central Library (1971)
National Westminster Bank (1976)