I am undertaking various background research projects on the history of Newman Brothers as part of the Coffin Works research group.  At our last meeting it was proposed that visitors to the new Coffin Works museum will be transported back in time to see Newman Brothers as it was in the year 1965.  One of my research tasks is to search for key events that happened during this year. I didn't have to search very long before discovering a very important event that happened in the first month of the year – the death and funeral of Sir Winston Churchill.  Churchill was one of the greatest political figures in British History and it has long been reputed that Newman Brothers manufactured the Coffin Furniture for his funeral.
Following his death on 24th January 1965, the nation went into mourning with news reports describing the public outpouring of grief, admiration and respect for this much loved figure.  I thought it would be a great addition to the Coffin Works to try to find an official newspaper from that time.  I have managed to acquire a copy of The Daily Mail from 25th January 1965. The picture below shows the front cover with an opening article discussing Churchill's death.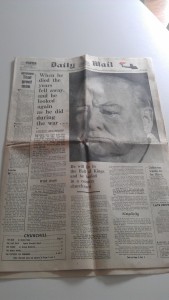 Inside there are pages devoted to Sir Winston's life and work, including the below detailing  his intended place of burial  "in the shade of an old Cypress tree".
It would be great to imagine that the Newman Brothers workers of 1965 might have been reading a copy of this, or a similar paper, knowing that their very own coffin fittings would be being used for the funeral of such a high profile figure.