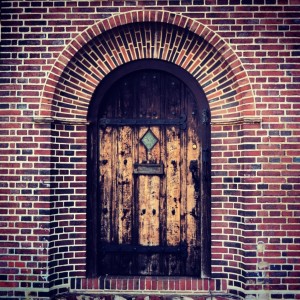 On my way out of town through Longbridge last week I took a short detour down Leach Green Lane to take a look at the old Rednal Library, which I'd heard was built in an Arts and Crafts style. What I found was an amazing and original little building.
Rednal is right at the edge of the city boundary, Rednal Hill being one of the Lickey Hills, and the Bristol Road tram terminus arrived in the 1920s to ferry Brummies out to the Lickeys on day trips. The trams are of course long gone but the terminus building is still there – it was a Chinese restaurant last time I looked – and a short stretch of the line has been kept. Real urbanisation only came along here after the Second World War when the Rednal Hill council estate was built.
The library was there before all this. It is dated 1909, when the area was still under the control of Kings Norton & Northfield Urban District Council, and its size probably reflects the largely rural settlement that it was intended to serve. The foundation stone above the door confirms that, like many libraries in Birmingham and elsewhere, it was built with funds provided by the Scottish-American philanthropist Andrew Carnegie. The land was given by the Cadburys, who played a significant role elsewhere in the Birmingham Arts and Crafts movement, and the architect was a Benjamin Bower, who does not appear to have many other buildings to his name.
The library was Grade II listed in 1982 and closed about 20 years ago (hopefully not a precursor for some of Birmingham's other local branch libraries). It is now a private house. The occupants must have quite a reading room…