When I used to sit in the Birmingham Museum and Art Gallery sketching William Morris patterns for my Art GCSE coursework, I didn't quite realise the important role Birmingham played in the 'Arts and Crafts' movement. And, in turn, the influence the movement had on Birmingham's buildings.
Emerging in the second half of the nineteenth century, Arts and Crafts was a reaction against the perceived barbarity of contemporary industrial society and stood for traditional craftsmanship with simple, natural forms, blurring the distinction between decorative and fine arts. It also advocated radical economic and social reform by opposing mass production in favour of craft skills: some of the main figures in the movement, like Walter Crane – who designed the sculpture at the entrance to the Victoria Law Courts – and Morris, where bearded utopian socialists.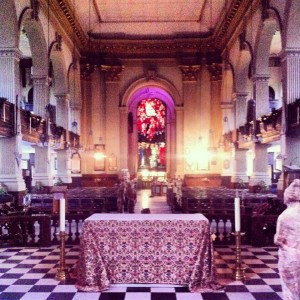 Burne-Jones / Morris Co. stained glass at St Philip's Cathedral
The vision of the Arts and Crafts movement grew from the 'Birmingham Set' at Oxford University, a group of friends collected around William Morris, Edward Burne-Jones, and a handful of other Birmingham men who had studied at King Edward's School. They were heavily influenced by the writings of John Ruskin. Burne-Jones left Oxford to work with the Pre-Raphaelite Dante Gabriel Rossetti, and became an important artist and designer in his own right. Morris was the President of the Royal Birmingham of Society of Artists in 1878-9, whose members also included influential Arts and Crafts and Pre-Raphaelite figures like Burne-Jones and John Everett Millais. In 1861, Morris founded the decorative arts firm Morris, Marshall, Faulkner & Co., including Rossetti and Burne-Jones as partners. The company manufactured stained glass to Burne-Jones's designs for St Phillip's Cathedral (1885-8) and St Martin in the Bull Ring (1876-7).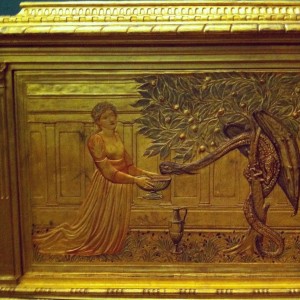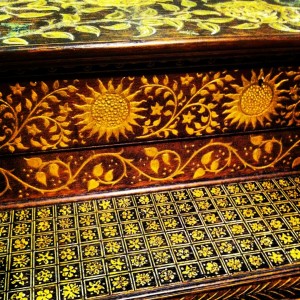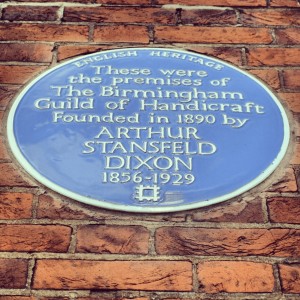 Burne-Jones 'Hesperides Cassone' and 'Grand Piano' at BMAG; AS Dixon plaque
        Florence Camm 'A Midsummer Night's Dream'; Mary Newill 'Sleep after Toile'; 'Forward' stained glass in stairway at BMAG
Meanwhile, the Birmingham Municipal School of Art in Margaret Street – the masterpiece of local architect John Henry Chamberlain and Grade I listed – opened in 1885, becoming the first Municipal School of Art in the country. It was a pioneering place, allowing local entry scholarships and art education for women, and led the way in changing art and design education inspired by Arts and Crafts principles. The School of Art produced skilled decorative artists, stained-glass makers and metalworkers. The 'Birmingham Group' of artists, which emerged from Margaret Street, and the Birmingham Guild of Handicraft had a significant influence over architecture, as simple decorative elements were considered to be integral to the design of buildings.
A distinctively Brummie take on Arts and Crafts architecture appeared at the end of the nineteenth century. Whilst the movement is generally associated with domestic architecture, Birmingham has a whole range of fascinating Arts and Crafts buildings. Simple materials – usually brick, sometimes contrasted with roughcast plaster – and craft techniques were used, in a reaction against the over-decoration of the grand Gothic grand terracotta style we usually associate with the Victorian era in Birmingham (a bit ironically, given the building in which some of the main figures studied). As Arts and Crafts was an approach to design rather than a unified style, there are graceful detached suburban houses, austere but neat factories, grand commercial buildings, intricate churches, model villages – most famously at Bournville – and even pubs in the 'Brewers' Tudor' style.
There were many local Arts and Crafts architects and designers who put Birmingham in the vanguard of British architecture, such as Herbert Tudor Buckland, Charles Bateman, Joseph Lancaster Ball, Arthur Stansfield Dixon, Arthur Harrison and Owen Parsons. Ernest Barnsley has a close association with the city, although a battle to save his last remaining house in Edgbaston in the Barnsley Road Conservation Area that bears his name was recently lost in favour of a large new retirement village. Works by William Bidlake and William Alexander Harvey featured in Herman Muthesius's Das englische Haus (1905), which took Arts and Crafts to Germany and influenced Bauhaus and the modern movement.
        Lethaby & Ball's Nos. 122-124 Colmore Row
William Lethaby, one of the foremost architects and visionaries of the Arts and Crafts era, also has links with the city – the former Eagle Insurance Building at Nos. 122-124 Colmore Row, designed by Lethaby in collaboration with Ball, is considered to be one the most important Arts and Crafts buildings in the country, and is Grade I listed. More tenuously, Perrycroft – the first Arts and Crafts country house by Charles Voysey, at Colwall, near Malvern – was for many years an outward bound centre owned by the Birmingham Battalion of the Boys' Brigade, where several generations of Birmingham lads visited for a taste of the country (although if I'm honest I didn't realise its architectural significance when I visited as a 12 year old…).
The combination of arts and architecture in Birmingham reached its logical conclusion in 1909, when the School of Architecture was opened as a branch of the School of Art, with Joseph Lancaster Ball as Director. The Arts and Crafts tradition was carried quite a way into the twentieth century by Holland W Hobbis, EF Reynolds and Crouch & Butler, and its influence can be seen all the way up until the modern era.
It is interesting that a movement with such radical roots might now be perceived to encapsulate quite conservative – and very English – ideas about suburbia and the rural idyll. It is this, as well as the variety and occasional eccentricity, which I think make Arts and Crafts such an interesting era in Birmingham's heritage. So, armed with the indispensable Pevsner Guide and a camera phone, over the next few months I will try to blog about some of the built legacy of the rich Birmingham Arts and Crafts tradition.