It's fairly true to say that Newman Brothers Coffin Fitting Works first came to the public's attention in 2003 when it was one of three buildings featured in the regional heats of the series 'Restoration', aired on BBC2 and presented by Griff Rhys Jones. Millions voted to save their favourite building at risk in the region; which saw the incredible Bethesda Chapel as the finalist. (We need another one of those series please BBC!!!!)
Ten years on and the Beeb have commissioned a new programme, reflecting on the thirty buildings featured in the national series to see what has happened since 2003.
So, today Newman Brothers had a visit from the new presenter; impressionist, stand up comic and writer Alistair McGowan who is best known to British audiences for the award-winning The Big Impression. It was absolutely brilliant to be able to show him, and in a week or so (2 December) millions of viewers when it is aired on the BBC – there is progress!!
Determined to capture every event in the story of the building as ever, we invited two very special media companies who are working with us to join the party! The result: a film about a film being made about a film! It did actually feel that confusing at one time!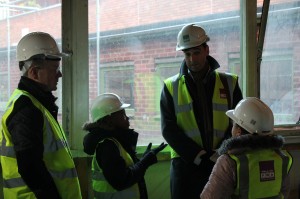 The wonderful TNT News Team in Ladywood did a quick interview with Alistair about why he was at the Coffin Works. Alistair was a great sport, even throwing in a couple of impressions of Frank Skinner and Gary Lineker into the mix (although these were a bit lost on the 10 year old reporters Dejhante and Lois!) TNT News also got an interview with our two construction skills work placement students from South & City College. Watch this space!
Filming TNT News Team, were the lovely Deb and Paul from local media production company Hungry Monkey Media, who are generously making a film for us (for free) which will follow the story of the next 12 months; capturing different stages of the project. Today was certainly one of them!
Thanks to everyone involved today. That's a wrap!