You will have heard about the scaffolding going up at the Coffin Works, but have you seen our new panels? These will remain on the wooden shutter boards until opening next summer. For those of you who won't naturally pass down Fleet Street, here is a closer look!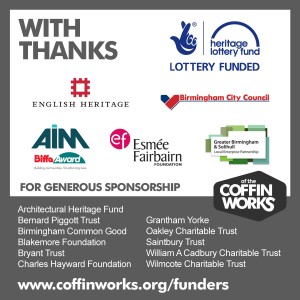 Expertly guided by Citrus Frog, based in Digbeth, our new branding reflects the fact that the Coffin Works will have multiple uses. It will be the home of  Newman Brothers, our historic factory attraction; the home for future tenants who move into a workshop/office space  along with ourselves after refurbishment work is completed; and will also host events and exhibitions in The Courtyard and Gallery spaces.
You'll notice some yellow arrows in the picture at the top. They point to a board which will be changing in January next year to display the art work of three primary schools and winners of our Open Arts Competition – Inspired by Newmans! Find out more details about how to enter here.
The panel below about Birmingham Conservation Trust is my favourite. Graphics by our wonderful volunteer Grace Cappy!