I am really excited to update you on some of the wonderful things happening in preparation for opening Newman Brothers as a heritage attraction next summer. So much going on!!
Thanks to an AIM Biffa award, which is part of the National Heritage Landmarks Scheme, we have commissioned a team of professionals to work with us to help us create visitor interpretation and learning resources.

Visitor Interpretation
We've blogged before about how we are producing an original film on multi-faith traditions and four alternative iBook factory tours for different audiences. Tiger Features and bITjAM Ltd are developing these with us, working with young people from Holyhead and James Brindley schools. See previous blog post about the digital work going on and this one about filming our young narrators for the iBooks.
The first iBook will soon be ready for testing, so watch out for the blog post inviting you to be part of  a user focus group!
What we are also excited to tell you about are the fabulous learning resources that are taking shape!
Learning 
We are developing education resources for schools visiting the site and we have commissioned a team of people working on different aspects of this. This resource is based around the theme of the Newman Brothers Travelling Salesman. Below is a picture of the very dashing Dai Davies who worked at Newmans as their Travelling Salesman (we're told that the female workers would get all giggly when he came into a room!)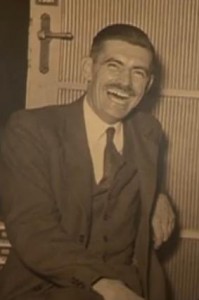 First we have a bag. Produced by Phil AKA The Leatherman. We asked Phil to make a slightly larger version of an original late Edwardian bag we found in the Newman Brothers Collection. All hand stitched. Beautifully made and picked up last Friday. 5 more on the way!
Second we have developed a collection to put in it! We commissioned Sue Pope, museums learning expert, to develop the handling collection and learning resources to go in the bag based on research about the Newman's Travelling Salesmen, including Dai Davies.  BCT volunteer Matthew has lent a hand. The resources include replica NB product catalogues. Sue has also developed a series of interactive activities to use with the bag.
We can't wait to start testing out the activities she has prepared with schools and families. So, again, look out for an invitation to take part in a user focus group! If you are a school and would like to be part of this test phase, then please get in touch!
Replica shroud books are still to add to this inventory. Kay Wilton is finishing these off as we speak!
Kay has also been commissioned to design and make costumes for our volunteers to wear at the factory and for children to dress up in when they visit! Modelled below (from left to right) by Simon, BCT's Director (he is wearing the kids apron!), myself and  Bob, BCT's Chairman!
The AIM BIFFA Award is also paying for the factory's historic machinery to be conserved and refurbished and we are having a condition survey and costing exercise done over the next few weeks.
As you can see we have been busy and are delighted to have been able to commission a great team to work with us and make some very special resources.
Watch this space to hear about the new branding for Coffin Works and Newman Brothers we have just signed off, ooh and an art competition we are launching to get your artwork on one of the factory exterior display boards during the conservation works…. the subjects for other blogs me thinks.