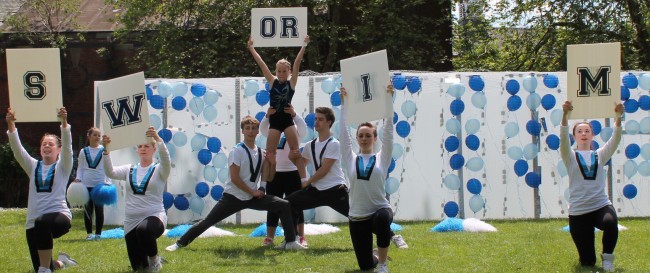 The round 2 Heritage Lottery bid to restore the former Stirchley Baths and re-purpose it as a community 'hub'  is due to be submitted by the 17 June. This poignant moment was marked on Saturday by over 200 people on the former bowling green behind the Baths for a wonderful and balloontastic event called 'Sink or Swim' which was organised by Place Prospector.
Will the bid be turned down and the plans for the Baths' restoration sink? Or will the HLF say yes and secure a future for the building? Once again Stirchley residents turned out to show their support for the project.
Cheered along by the Stirchley Shakers, members of the community selected their weighted balloon from a pool where balloons spelled out the word SINK, weighed in their support for the project by handing over their custom made 'thumbs up' weight to literally be weighed and to sign a book. They then added their balloon to a custom made wall, and by the end of the event the balloons spelled the word SWIM. Pictures from the event can be found here.
Simon and I have been busy preparing the Activity Plan and Interpretation Proposal which accompany the application and these will also be submitted by 17 June. What an amazing project to work on. I'm sure you'll also be routing for a 'thumbs up' verdict! We will find out in September.
?
We will let you know as soon as we find out!