J.W. Evans Silver Factory in Birmingham's historic Jewellery Quarter contains over a 100 years of history, a silverware factory founded in 1881 by Jenkin Evans and remained with the Evans family for four generations. Last month myself and other volunteers from BCT were guided around these fascinating buildings.
One of the first things that strikes you as you walk around is the fact these buildings offer an opportunity to enter a lost industrial world, represented by the surviving workshops where machinery, stock, stamps, dies, pattern books, business records and photographs remain.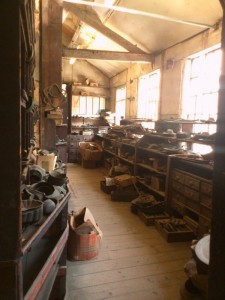 The surviving contents demonstrate the traditional silversmithing trade that took place in the Jewellery Quarter. The firm carried out various processes in order to produce the final product. Within each of the rooms machinery, tools and products in various states of completion can be found representing the different stages of silverware production and the workmanship that went into them.
The premises of J.W. Evans were based in former domestic premises, they are early examples of 19th Century houses which were gradually modified for industrial use. The Evans family lived at number 54 for 19 years and moved to Middleton Hall Road in 1901. In the beginning Jenkin Evans worked from the workshops at the back of number 54 (later expanding to 55, 56 & 57). Today as you walk round a cast iron cooking range, original staircases and patterned wallpaper can be seen which serve as a reminder that these buildings were once homes.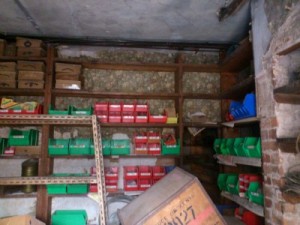 For more photographs of J.W. Evans take a look at those taken by Tracey Thorne here.
If your thinking of visiting J.W. Evans take a look at English Heritage's website for opening times.