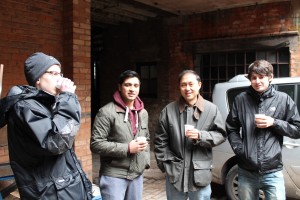 Last Friday all the remaining contents of The Coffin Works were packed up and shipped out as we get ready for the start of restoration work. We were joined by eight employees from Ernst & Young in Birmingham who took advantage of their company's corporate volunteering scheme which offers all employees two days out the office a year to support the work of charities.
We have kept behind a few crates of products to get out again on our final tours which were rescheduled for later in the month, but all those boxes of screws, coffin handles and breast plates that were hidden away in corners have now been accounted for, wrapped in acid free paper,  bubble wrapped if necessary and put in airtight crates to join the rest of the Newman Brothers collection in store.
As one team of volunteers stayed after lunch to pack up ready for our move out, a second group were busy unpacking the business records at their new home for the next 12 months at The Pen Room. Our volunteer research team can now start going through them – in a nice warm environment. Massive thank you to thePenroom  Museum for working with us to make this possible.
A massive thank you to Sadie, James, Julie, Deena, Steve, Frank, Sunil and Diane for really getting stuck in and helping us,  and to our very own BCT volunteer Julian who came to help and do the very important task of taking all the rubbish to the tip! A great day and we hope we can work with you all again in the future.