Being a 'Development Officer', as the title suggests, means I get to 'develop' exciting new areas of work for the Trust and meet loads of people who are passionate about heritage. Well, this week it feels like I've had back to back meetings, but there has not been a desk, meeting room (or heating) in sight! Here are days 2 and 3 of my week spent at The Coffin Works. Click here for Day 1 if you missed it!
Day two
Thursday 5th January

(with an extra pair of socks!)

10:00 am Simon and I met with Diane and Caroline from Ernst & Young to discuss corporate volunteering opportunities with the Trust. They offer their staff time two days off a year to do voluntary work. For starters we are inviting a team to help clear out the remaining contents of The Coffin Works before the contractors move in in April!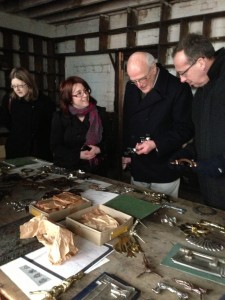 12:00 pm The AIM BIFFA Award panel (which includes the legendary and charismatic Sir Neil Cossons) came for a VIP mooch  of Coffin Works led by our lovely volunteer Barbara.
1:30 pm Quick bite to eat and a catch up with Simon Buteux before returning to the Coffin Works to meet Norman Bartlett from Ladywood's TNT News team to plan a series of filming sessions with his group of young film makers to capture the conservation work during the 12 month restoration.
You may remember TNT News did some filming at Coffin Works before, and more recently made a film about Joseph Gillott at The Pen Room.  We are asking them to provide a window into The Coffin Works for all of us when it is cocooned in hoardings from the Spring. It hopefully will include interviews with the contractors and heritage skills specialists  – and available on our website.
3.30pm I met another new volunteer Tim Comens who is keen to get started on some research for us and be a regular tour guide when we open to the public in summer 2014.
Day 3
Friday 6th January
Another day of people getting inspired by heritage!
9.45 am  Met Richard from Birmingham Opera Company to show him The Coffin Works with a view for using it as a performance venue  for their latest production of pieces by Mussorgsky. What will you do when Death comes knocking? Watch this space on this one!
10.45 am A minibus of gifted and talented pupils from Harborne Academy, their teachers and three photography students from Matthew Boulton College  arrived for a tour led by primary school teacher-BCT volunteer Rachel. The Pupils were asked to come up with some ideas for a creative project working with us and J W Evans.   This was the first ever school group to visit the site and a massive thanks to Andrew for arranging the visit. We hope to welcome other schools to see the factory before it is restored.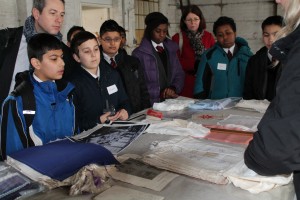 I am working with Sheree Tucker from English Heritage and BCT education volunteers Rachel and Kris to set up a series of school pilots over the next 12 months, including in partnerships with English Heritage and The Pen Room.
2.00pm The afternoon was no less eventful with three teachers joining us and also Olivia (a volunteer with The Pen Room) for tours of both The Coffin Works and J W Evans, followed by a cuppa, cake and discussion about what we can provide (across the three sites) as resources for schools, and the cross-curricular and themed links we might develop. Many thanks to Tindal Ark Primary, Holyhead Secondary and Nelson Primary for releasing your teachers to meet us to discuss ways we can work together – loads of really useful ideas and insight. We have another session planned for three more schools in March, so if you are a teacher and would also like to get involved contact SuzannecarterBCT@gmail.com.
Huge thank you also to Helen Soane and team for coming up from Kenilworth to open Evans up for us and the tour.
Everyone agreed it was a really nice way to spend a Friday afternoon. For me it was a great end to a really interesting and stimulating week.