On a cold winters night on December 27th 1853, nearly 2,000 people braved the snowy streets of Birmingham to witness a very special event.
The famous journalist and popular Victorian author, Charles Dickens, would be performing a reading of his new work entitled "A Christmas Carol" publicly for the first time at Birmingham Town Hall. The tale told of an old miser named Ebenezer Scrooge and followed his transformation into a generous and repentant gentleman after encounters with three ghosts on Christmas Eve.
The reading was originally supposed to last around two hours, but went on for nearly three! The audience did not mind this however, as Dickens was a natural orator and performer and enthralled the audience throughout. An article in the Birmingham Journal read:
"What a grand, fine looking Christmas party it was. The lights were so brilliant, and the drawing room looked so gay, and so many folks looked happy and pleased.
"No party either at this Christmas time, or any other, had such a treat in story telling. And it was a long story too. For full three hours and a quarter the host kept the party amused, melted with pathos; or tickled into laughter – not quite genteel combinations; but full of lusty roars, that came warm from the heart; or stimulated to ringing cheers by the homely kindly moral teachings of the tale.
"But Mr Dickens did not only read the story, he acted it too. Everybody was charmed by the way in which the story was told. How Mr Dickens twirled his moustache, or played with his paper knife, or laid down his book, or lent forward confidentially, or stuffed his hands in his pockets, or twinkled his eyes as if he enjoyed the whole affair immensely, and as if the story was told for his own especial pleasure, and delight."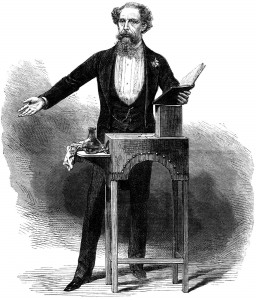 The event had been organised in order to raise money for the charitable Birmingham and Midland Institute, and Dickens performed another two readings at the Town Hall following this. He was a great supporter of working mens rights, and the Birmingham Journal noted: "Mr Dickens having particularly desired that one of the Readings should be given to an audience composed of Working Classes…the Friday Evening shall be devoted to that purpose."
Dickens developed a keen interest in Birmingham and it's industrial prosperity, and wrote a portrayal of the city in his novel, The Pickwick Papers.
"The streets were thronged with working people. The hum of labour resounded from every house, lights gleamed from the long casement windows in the attic storeys, and the whirl of wheels and the noise of machinery shook the trembling walls.
"The fires, whose lurid, sullen light had been visible for miles, blazed fiercely up in the great works and factories of the town. The din of hammers, the rushing of steam and the dead, heavy clanking of engines, was the harsh music which arose from every quarter."
Dickens began writing his "little Christmas book", as he called it, in October of 1843 and worked on it feverishly for six weeks, finishing it at the end of November, just in time for Christmas. He bought it to Birmingham for it's first public performance 10 years after it's publication, and before this time no great author had performed their works in public and for profit, and so many thought this action to be beneath Dickens.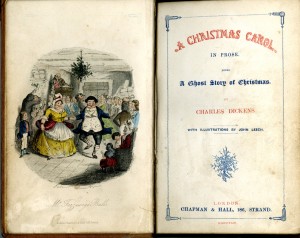 Apparently, Dickens had a rather odd routine on performance days. He would take 2 tablespoons of rum flavoured with fresh cream for breakfast, a pint of champagne for tea, and around 30 minutes before the start of his performance, would drink a raw egg beaten into a tumbler of sherry! During the 5 minute interval, he would consume a cup of beef tea, and always retired to bed with a bowl of hot soup. He always made certain to look his best for performances, presenting himself to his audience in full evening dress which consisted of a bright buttonhole, a purple waistcoat and a glittering watch chain. The stage would be set up with a reading desk, carpet, gas light and a pair of large screens which would help to project his voice further.
He would enact a range of characters, and it was said he would appear "like an entire theatre company under one hat." When Scrooge would appear, Dickens would play the part of an old man, with a harsh crackling voice, a hunched posture and a sour expression, pulling his collar around his face, and at Fezziwig's party, he would madly dance his fingers along the desk as if playing a piano and it was reported that the audience "Fell into a kind of trance, as a universal feeling of joy seemed to invade the whole assembly."
This year marks Dickens' 200th birthday, and many events around the country have celebrated this great authors life. I wish that i could have been one of those lucky souls on that cold night in 1853 to witness such an enthralling performance, but sadly i can only imagine the atmosphere in the great Town Hall that evening as Dickens read his immortal classic.