In searching for inspiration for my next blog, I decided to turn to my own Birmingham ancestry for inspiration.   My fourth Great Grandfather, Enos Edwards was the Chief Engineer for the Birmingham Fire Office working from 1807 until his death in 1862. His son Enos and other members of the family were also firemen and engineers for the company.
The Birmingham Fire Office was first established in March 1805, and in 1808 the company built its stone fronted office in Union Street at the expense of nearly £4000, which also included the engine house, fire-men's houses, and stables.  The picture below is from Bisset's directory and shows the regency fire office building in 1808 (1)
My ancestor lived in the fire-men's quarters which were in Union passage.
By 1839 the Birmingham Fire Office had two engines, one being decorated with wooden battle axes, and iron scroll-work painted in many colours and the other being very plain and drab. William Baddelsky writing in the illustrated weekly journal for iron and steel in 1835, described "if a fire breaks out on premises of the Society of Friends, of which there are a large number in Birmingham, the Drab engine is dispatched to their assistance; but if the goods or chattels of Jews or Gentiles are in jeopardy, the painted engine is brought out." (2)
During the early days of fire fighting in Birmingham there was no organised municipal fire service like we have today, so people had to buy insurance from the many different insurance companies available of which the Birmingham Fire Office was an early example.  These different insurance companies were represented by agents  and Showell's Dictionary of Birmingham describes their presence in the city "insurance agents offices are so thick on the ground round Bennet's Hill and Colmore Row, that it has been seriously suggested the latter thoroughfare should he rechristened and be called Insurance Street. It was an agent who had the assurance to propose the change!"  (3) To this day this area has remained Birmingham's financial district.
According to William Hutton in his 1835 book The History of Birmingham, the rates of fire insurance varied for properties but ranged from 2 shillings and 6 pence to £100 per annum (3). Once insured with a company a fire mark had to be attached to building as proof of insurance. I actually found a Victorian example of the Birmingham Fire Office mark by chance on a visit to the BMAG's History Galleries Exhibition, here it is below: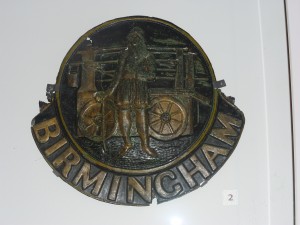 In the early history of fire fighting it was sometimes the case that when a fire broke out several insurance fire brigades would attend the fire, but if the building was not insured or had a rival fire-mark the brigade would return to base, or even try to sabotage the rival brigade.  This often led to persons insuring their property with more than one company to ensure the fire would be put out.
On investigating the sites in present day Birmingham most of the Georgian and Regency buildings have long since disappeared and the only evidence of the old fire office, and any insurance and agent's buildings now lies just off New Street, where the following sign can be seen.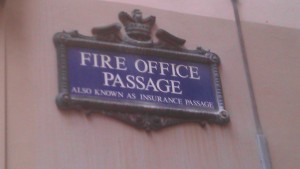 This passage would have linked up to Colmore Row and Bennet's Hill the areas described in Showell's dictionary, so perhaps the aforementioned agent did sort of get his way after all on the renaming of street sign.
My ancestor Enos Edwards attended many Birmingham fires throughout his career and devoted his life to fire fighting in Birmingham. In his obituary in 1862 he was called the "Braidwood of Birmingham" so called after James Braidwood the founder of the world's first Municipal fire service (in Edinburgh) and first director of the London Fire Engine Establishment.  It is nice to know one of my ancestors played an important role in Birmingham's history.
Sources:
(1)   Image from: A Catalogue of Commerce and Art: Bisset's Magnificent Guide for Birmingham, 1808 [From Birmingham Central Library]
(2)   Illustrated weekly journal for iron and steel 1835
(3)   Hutton, W. (1835). A history of Birmingham, edt by Guest, J.  Birmingham.  6th Edition.
(4)   Harman, T. and Showell, W. (2004)Showell's Dictionary of Birmingham. A History And Guide Arranged Alphabetically