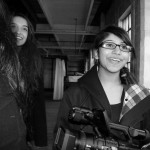 BCT invited media students, led by Richard Bourne, to get involved in the consultation on Moseley Road Baths that we ran over the summer. The students were really keen to get involved in a film project at the baths, recording the present, during construction and post restoration phases. That project is not quite ready yet, so we invited them to come and start something similar at Newman Brothers.
Last Monday, armed with film-making kit, questions, research and the storyboards for three different films, they spent a few hours on site for the first of a few visits over the next 18 months.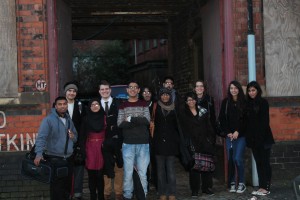 One group created a fictitious piece involving costumes; another a news documentary with a presenter and the third group filmed interviews with Suzanne and passers by on Fleet Street. It was fortuitous or simply good timing, that one of the interviewees that passed by was Michael Taylor, English Heritage's Historic Areas Advisor – who knows the Jewellery Quarter very well indeed!
We look forward to working with Richard and his students in the future and seeing their work next year. It was so nice having young people at the factory, and to see their enthusiasm and interest in both the social and architectural history of the Works.