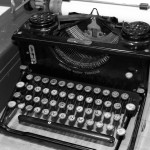 Like many people I spend a fair amount of time at a desk, behind a computer. Working for BCT I do, however, have many a day when I'm out and about, meeting new volunteers, developing new areas of work and getting back stage passes to the most incredible heritage. Here is how I (Suzanne Carter) spent Thursday last week and the interesting folk I met along the way:
Thurs 29 November
10am – Met up with one of our long serving volunteers Barbara Nomikos at Newman Brothers to set up for evening Candle-Lit tours of the factory.
11.30am – headed down with Barbara to Ernst & Young for their lunchtime staff Christmas fair – to sell tickets to our candle-lit tours and meet Dawn, their corporate volunteer coordinator. It was really strange and very challenging trying to sell tours of a coffin fitting works next to handmade jewellery, bread and cup cakes! People thought we were actually selling our handling collection (shroud sample book, coffin handles etc…) Very interesting learning experience!!
2.30pm – arrived at Erdington warehouse (top secret location!) to visit former Trustee Cllr Peter Osborn-Douglas and the Newman Brothers collection. Barbara was VERY excited to be here, having been involved in cataloguing the collection in 2006.
In the New Year we will be routing through the collection in storage to find the business records so our team of volunteer researchers can delve into the history of the business and its workforce. We will also do some light conservation work on the stamp-dies.
4.30pm: lighting candles, battling with shutter board and a power tool (the power tool won!), setting up for evening event at CFW and quick change into Victorian costume!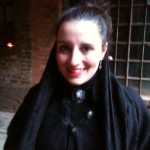 6pm: we welcomed 12 international visitors from Spain, Czech Republic, Belgium and their hosts David and Sally from MADE for a candle-lit tour of Newman Brothers – again with our wonderful Barbara (who is also one of our tour guides).
A long and varied day… huge thank you to Barbara who is simply amazing giving her time so often to support the work of the Trust.
Tomorrow…
I'm meeting two new volunteers, having a behind the scenes tour of J. W. Evans Silversmiths and meeting with our friends at the Pen Museum and English Heritage to talk more about a joint schools education workshop. Look out for the second instalment of confessions of a BCT Development Officer later in the week.