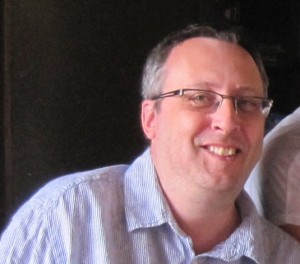 A fond farewell again this month for another valued BCT team member.  Social Media guru Nick Booth has come to the end of his term as a Trustee Director and yesterday at our AGM we said goodbye (officially), but we have no doubt that we'll see Nick virtually on a  regular basis  as he continues to support our work through the social networks he set up for the Trust.
A new constitution came in force a couple of years back which means Trustees are now only with us for a maximum of three years – but we are incredibly lucky to have had Nick for ten!
I asked Nick to reflect on his time as a volunteer Trustee over the last decade…
Can you tell us your four personal highlights of being involved with BCT over this time?
"Four – there have far many more.  The opening of the Back to Backs was extremely memorable – so many people were proud of the work they had done to protect these buildings – capture the stories of the people who had lived there and the Conservation Trust was absolutely core to that happening.  The day that Advantage West Midlands pulled funding from the Coffin Fittings Factory was equally memorable but for negative reasons – as was the long patient campaign to get the Trust in a position to buy the building from AWM – so it could have a future.  Finally every single one of the volunteers who has written on our website – I was working from day one to try and help the Trust use the web better – including social media – so seeing that thrive has been a joy".
What have been the biggest challenges?
"The most challenging thing is just how long it takes to put everything in place you need to work with listed buildings – it takes patience and a long view.  On top of that we've been working to shift mindsets around what Trusts are for – trying to make the Trust more commercially minded – better positioned to earn for its expertise". 
What are you most proud of in your term as Trustee?
"I'm leaving because we changed the constitution – which means that all Trustees can only serve a limited time. Seeing that happen and fresh energy and heads come onto the Board has been a real pleasure".
What you will miss the most?
"I won't – I'll still be able to see what's going on through the website and still be able to enjoy Heritage Open Days – and still be around if anyone wants to pick my brain".
A huge thank you to Nick for all his hard work, enthusiasm, advice and commitment to the Trust. See you on Twitter!