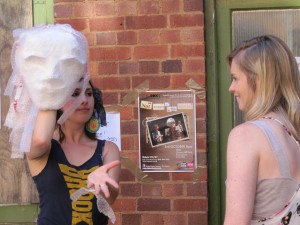 On Saturday and Sunday Tin Box Theatre Company collaborated with us to entertain our visitors during Heritage Open Days.
Visitors were treated to the acoustic melodies of Ellie Chambers and David Gray, the guitar improvisations of Vidyaruci, read stories by poet and storyteller Matt New, witnessed puppeting extracts from Tinbox's forthcoming show Not Known at this Address and enjoyed the juggling of the unnamed street performer and clown.
A massive thank you to everyone for giving up your time and sharing your talent with us over our heritage weekend.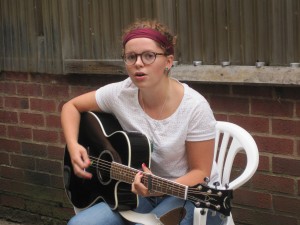 As the sun set and dusk set in, Newman Brothers opened again to an evening hosted by Tin Box Theatre Company.
Some of you may remember their first project Stop the Clocks at the Coffin Fitting Works in 2011. After the success of their first 'Box of Treats' event at the Ort Cafe in Balsall Heath, Tin Box returned to host their second event with us.
An audience of 40 were treated to a range of acts from exciting local talent – by torch, lanterns and tea lights in three areas of the factory, and in the Courtyard.
The performances were from:
Hannah Graham from FresHold Theatre who presented 'Dear Spotty Book' – a collection of spoken word poems www.fresholdtheatre.co.uk
 Polly Tisdall from Rambling Heart who presented traditional tales of trade and exchange http://pltisdall/wix.com/pollytisdall
Tin Box Theatre presented an extract from their current show Not Known at this Address.
Music-wise there were sets from melodic 60s influenced songwriters Joelle O'Toole and Steve Ison (You Tube page "ScenesFromPalacio) and young acoustic folk trio The Mistakings http://www.youtube.com/themistakings
It was a great atmosphere and a pleasure to see the site used so creatively. The Courtyard looked amazing by tea light – any photos I took just do not do it justice!
Tin Box – it was a pleasure collaborating with you and all the best with your forthcoming show  Not Known and the Address which premieres at the Mac on 3rd October.
Why not visit Tin Box at the Make.shift Birmngham Shop on New Street where they are currently co-creating the Three Week Window Festival. www.makeshiftbirmingham.wordpress.com