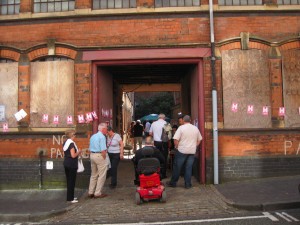 What an amazing weekend we have just had at Newman Brothers Coffin Fitting Works.
We welcomed around 450 people into the factory and sunny courtyard over two days as part of the annual Heritage Open Days event. While waiting for tours and looking at displays visitors were entertained by music and performance thanks to Tin Box Theatre Company and their talented crew.
The tours booked up extraordinarily fast on Saturday, with people coming back later in the day or the following day for a place on a tour. At a couple of times we had a little queue down Fleet Street!
Apologies if you are one of the many we were unable to offer a place to. Thankfully we also had music, performance, children's activities, displays and on Sunday even a Vintage Car in the Courtyard. We also opened the Stamp Room with all the old machinery and Bob, our expert in manufacturing processes, to talk to visitors; so everyone got a Coffin Fitting 'experience' if not the full works!
Sensing we might be busy on Sunday we made some phone calls in the evening, rallied together a few extra volunteers and were able to put on five additional tours the next day – and that still wasn't enough!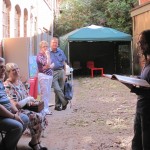 Over 450 of the curious came, but it was truly the efforts of our marvellous volunteers that conquered!
Huge amounts of preparation went into learning the factory tour (we had five new tour guides this year!), preparing the children's activities, and creating our photographic display and alternative tour.  We also had a team of event assistants to keep thing running smoothly and chatting to visitors. In all, 19 wonderful BCT volunteers (plus a couple of friends and family we roped in at the last minute!) helped us prepare for and run this event – we thank you for all your efforts and contribution – amazing one and all!
For us HODs 2012 celebrated the end of an era of uncertainty. It is the last time we are holding public open days before conservation works begin in January – the final days to see the decay!! This year visitors got to see the 'before' state of the building, next year (if possible), we hope we can show them the 'during' restoration phase and for HODs 2014 – we hope to welcome visitors back to see the 'after' effects!