We'd like to welcome another new volunteer – blogger to the BCT team – Sarah Ashley!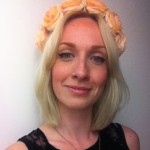 Sarah is originally from Herefordshire, but moved to Birmingham 4 years ago and lives in the Jewellery Quarter.  She currently works for a big clothing store in the very busy Bullring, but will be starting a course with the Open University next week – which will set her on a career path in the heritage sector!
Sarah tells us "I love historic properties, and spend some of my free time volunteering at the Back to Back houses in Hurst Street lighting the coal fires and gas lamps and setting the scene for visitors to the property. I am really looking forward to blogging with BCT, and discovering more about my adopted city".
Sarah, it's over to you….
Living on the edge of the Jewellery Quarter I am lucky enough to be right in the epicentre of historic Birmingham. On my way home this morning, I decided to search for a quirky little monument to Victorian modesty I had read about in a book about Victorian Birmingham. It stands on Vyse Street, right outside the Jewellery Quarter station.
These "Temples of Relief" (Or Urinals to you and I) were all over the city at one point, built to prevent unsanitary episodes of street urination. It would have been rude beyond comprehension to be caught doing such a distasteful act in public, and delicate Victorian temperaments dictated that these lavatories be built in such a way as to hide their function. The toilets were for the use of Gentlemen only, which begs the question, what did the Ladies do?!
It usually cost a penny to use public lavatories, (though i am not sure about these small conveniences) and this gives us the splendid euphemism 'I'm going to spend a penny' which is the politest way of saying that one wishes to use the toilet!
I would like to get a look inside, although these are very small and probably not maintained, so there would not be a lot to see, but I like to imagine they would have been decorated in a typical elaborate Victorian style.
There are actually a few in Birmingham City Centre, there is one under the archway on Allinson Street, one on the corner of Great Barr Street and Liverpool Street  and a friend tells me of another on Heath Mill Lane in Digbeth. I will have to investigate these at a later date.
When the ICC was built, a lot of buildings and streets had to be destroyed, but a listed Victorian Urinal also stood in the way on Edward Street, and so it was arranged for it to be dismantled and moved to a local railway museum. Sadly it never made it, and nobody knows what happened to it. One day hopefully it may come to light!