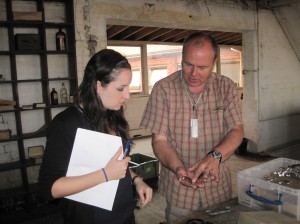 Blue Badge Guide, and BCT volunteer, Michael Reddy offered his tour-guiding tips to some of our BCT volunteers in a spot of training  as they prepare for giving Heritage Open Days tours. Michael is known within the city for his Ghost tours which take in the Coffin Fitting Works. http://guidedtoursofengland.org.uk/tours/walking-tours/birmingham-ghost-walks/
Having seen Michael holding up a torch to his face at dusk in Newman Brothers I imagine the Ghost tours are thrilling! Thanks Michael for helping us out.
On the subject of preparing for HODs – thanks to Andy Phelps for volunteering to re-board the Courtyard staircase for us at the Coffin Fitting Works – we no longer need a crow-bar to get up there over the weekend, now just an electric screwdriver!