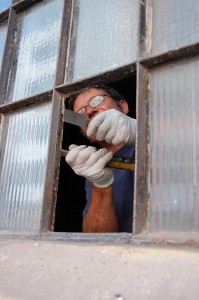 Tuesday this week was all about practising and getting things right at the Coffin Fitting Works.
Glazier Nick Baylis, a specialist in the restoration of period timber and iron framework from Hockley, was there doing sample trials for repairing the cast iron windows so we can get cost certainty on the repairs and also get a good idea about how long they are likely to take; and the best methods to do it! (quick calculation… that is 3276 panes of glass – definitely worth a rehearsal!)
At the same time our friends at Tin Box theatre company were there rehearsing their new show in the sunny courtyard – some of which you'll be able to see at their second  "Box of Treats" event being hosted at the Coffin Fitting Works in collaboration with BCT on Saturday 8th September!
more details to follow….