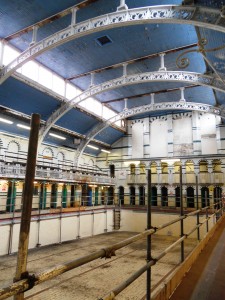 The spectacular Moseley Road Baths, in Balsall Heath, is a building of national importance. It is the oldest of only three Grade II* Listed swimming pools currently operating in Britain (there are only seven national examples!). Built in 1907 it contains rare and unique features including:
The only complete set of pre-war private 'slipper' baths
Possibly the only surviving steam-heated drying racks in a British swimming baths
Upper storey balconettes in its three-sided spectator gallery.
In October 2004 the entire building was temporarily closed for £1m emergency repair works. Pool 2 re-opened in October 2005, however Pool 1 remains closed. The baths were closed again for 15 months from December 2010 for more urgent repairs but Pool 2 is now open again for bathing. The building is currently on English Heritage's 'Buildings at Risk' register.
There is considerable public support to keep the baths open and operating.  Friends of Mosley Road Baths have been campaigning for a number of years and have had a successful Heritage Lottery Fund bid to capture the social history of the baths.  Now Birmingham City Council has set aside £3m to be used as match funding for a major £8m Heritage Lottery Fund bid to tackle the external repairs and improvements to Pool 2, – which is fantastic news. This is seen as Phase One of an even bigger project to complete the full restoration of the baths.
Working alongside the Constituency team, Acivico and conservation architects Rodney Melville's and Partners, Birmingham Conservation Trust has been commissioned to work on the long term plans and activities for the first stage Heritage Lottery Bid, due for submission later in 2012.  We have already spoken to some key players but we hope to hear a lot more from you in the coming months!
For more images, a virtual tour of the Baths and details of the Friends of Moseley Baths's current oral history project visit http://www.friendsofmrb.co.uk
Have you got something to say about the baths? Get in touch!