Shimmer-Man Productions have shot their new short film called 'Circles' at our wonderful Newman Brother's Factory – inspired by the Tin Box theatre production there 'Stop the Clocks' in 2011.
Producer Stephanie told us why she chose it as a film set; "It is a beautiful historic listed building, a place full of stories and memories, which we feel will enhance our film like no other location could".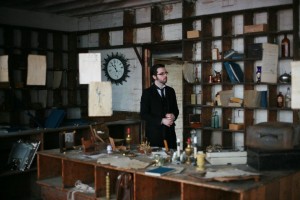 So what is 'Circles' about?
'Circles' is a tale about love, life and finding your soul mate. Taking place in an 'in-between' world, the story finds a female spirit convinced that she has found her soul mate and eager to move on to the next life with him to be together forever. However, when the technician, who keeps track of everybody's life stories, tells her that she has to go back again, she begins to question the point.
After an eternity of searching she hasn't found him yet, why is that going to change now? When the technician informs her that she isn't the only one searching, everything they both thought they knew about life and love is called into question…
Here at BCT we are excited to see the finished film and Director Reece will be sending us an edit.
We love the fact that this special building is being used in such a creative way!
Be interesting to know of any other historic buildings in Birmingham that have been used as film sets. Which ones do you know of?