Played in Birmingham will lead readers along a trail of fascinating locations and little known buildings, landscapes and waterscapes, in all corners of the city and its surrounds detailing the diverse sporting heritage that can be found in Birmingham.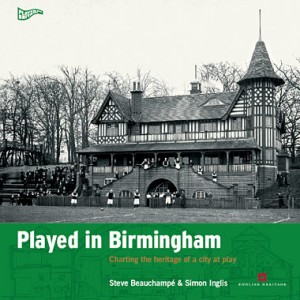 Birmingham possesses several wonderful sports-related buildings, not least the magnificent athletics pavilion of the Cadbury chocolate company in Bournville, built in 1902. Furthermore, the city has a stock of historic public baths includes three of the oldest operational swimming pools in Britain, including Moseley Road Baths in Balsall Heath dating from 1907, one of only three British baths still in use today that merit Grade II* listed status.
On a back street in Hockley, we find the spot where the world's first Football League was formed in 1888 by a Scottish draper. The city was the setting for the world's first snooker championships, in 1927. Birmingham is also home to the oldest lawn tennis club in the world the Edgbaston Archery and Lawn Tennis Society.
Workshops in the Jewellery Quarter have been responsible for supplying medals, cups and trophies for the growing numbers of Victorian and Edwardian sports clubs and tournaments. Furthermore, from the works of J Hudson & Co, the world renowned Acme Thunderer referee's whistle.
This is a book full of delightful surprises and quirky details, many of which are little known, even within the Birmingham area.