The Archway of Tears is an unlisted building completed in 1852, which formed the entrance to the former Birmingham Union Workhouse. It was here that people driven by poverty and circumstance arrived to be assessed for entry to the workhouse. Its evocative name reflects the sorrow suffered by new arrivals as families were split by gender and age to relevant living and working areas. Despite its extraordinarily moving social history the building, now stranded in the centre of the hospital car park, is unused and becoming increasingly derelict.
BCT was commissioned by the Sandwell and West Birmingham NHS Trust to procure funding and carry out an Options Appraisal. Grants were obtained from Successful Neighbourhoods Fund, Urban Living and the NHS Trust and the report is almost complete. BCT has worked with Rodney Melville & Partners Ltd. and Peter White from Fresh Life consulting with useful input from the Acting Senior Manager for Ladywood constituency, Neil De-Costa.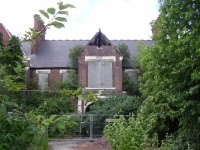 The Archway of Tears could be preserved as a meeting place and community asset
There is a very large and imposing room above the archway which could be used for events and conferences, there is potential to develop residential use in the attic space and there is a real need for a Community Hub in the deprived area around the hospital. All of these considerations are being reviewed and it is hoped that following the City Council spending review, there may be opportunities to develop the Archway for the local community, making it sustainable through rental income from commercial and residential use.
Although the building was turned down for listing (the Victorian Society put it forward), which means certain funding sources will not be available, we believe that when the Big Society structure and funding becomes clearer, this project should satisfy community requirements and stand a real chance of preservation as a community asset.