Volunteering is important to Birmingham Conservation Trust's work.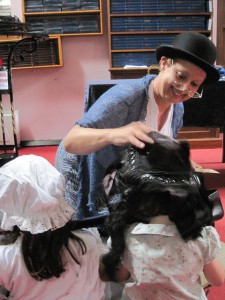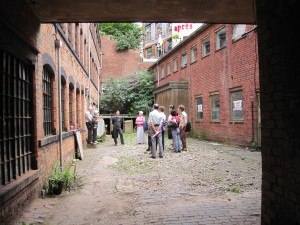 We have been supported by some fabulous volunteers over the years; some have helped us catalogue and digitalise our collections, others have researched aspects of the Newman Brothers funeral business, or given talks about the Trust's work, or created content for our website, and taken photos of our building projects!  Our annual Heritage Open Days event also involves lots of volunteers welcoming and showcasing our property (and often some dressing up!!). We also have a Board which includes volunteer trustee directors. While we have worked with volunteers to enable us to deliver more as a Trust, it has been, until recently, on a fairly ad-hoc basis.
However, in preparation for all the activity (events programme, interpretation, learning) being funded by the Heritage Lottery Fund alongside the capital repairs on the Coffin Fitting Works, we have set up a volunteering programme.
Read all about our latest Heritage Open Days event, which involved 23 of our volunteers at BCT – we couldn't have done it without you!!
We value our volunteers
We value our volunteers and in return for you giving your time and expertise to enable us to develop new programmes of work, we hope we can share some of our skills with you to help you to achieve your goals. We also hope that through our social events you can meet new people and have fun!
Our first social 'get together' / induction for volunteers was held on 27 July 2012. Check out our blog for details: http://www.birminghamconservationtrust.org/events/introducing-some-of-our-volunteers/
One of our volunteers Sarah, tells us about her day volunteering for us during a consultation event on Moseley Road Baths:
http://www.birminghamconservationtrust.org/volunteers/my-day-volunteering-for-bct-at-moseley-road-baths/
Look at what we were able to achieve with the help of our wonderful volunteers over Heritage Open Days! Here are a couple of blog posts:
http://www.birminghamconservationtrust.org/events/heritage-open-days-has-arrived/
http://www.birminghamconservationtrust.org/events/the-curious-came-in-their-hundreds-to-our-heritage-open-days-event/
 Is volunteering for Birmingham Conservation Trust for you?
We have provided some information to help you decide whether volunteering for Birmingham Conservation Trust is something you would like to do.
An Overview of Birmingham Conservation Trust's Work, including a summary of our latest project; The Newman Brothers Coffin Fitting Works in Fleet Street, Jewellery Quarter, Birmingham.
Role descriptions for the volunteering opportunities we currently have, and some for roles we know we will be offering in the future.
To find out about what we expect from volunteers, and what volunteers can expect from us – please look at our Volunteer Policy.
Once you have signed up as a volunteer – you'll need some more information and forms!
If you would like to register your interest in volunteering with us then please fill in the BCT Volunteer Registration Form and send it back to us:
Email: suzannecarterBCT@gmail.com
Post: Birmingham Conservation Trust
P O Box 28
Birmingham
B1 1TU
Or call for an informal discussion: 0121 303 2664
We will then get in touch, take up your references and arrange to meet you!
We look forward to welcoming you to our team of volunteers!